Divi Builder is the most popular WordPress page builder plugin by Elegant Themes, taking advantage of its revolutionary drag-and-drop feature and user-friendly interface.
Not only does Divi offer a WordPress theme but they also offer two different versions of Divi; a stand-alone plugin and a full theme. If you're someone who wants to build a WordPress site with a customized design, Divi Theme comes highly recommended.
By downloading the Divi Builder Plugin, you can get full control of your website's design with easy drag-and-drop functions while having access to countless premade layout packs and other resources essential for building a Divi website that works best for your purpose.
Pros
Visual builder is amazing
Lifetime option
A vibrant community with very active Facebook groups
Many, many premade layout packs
Cons
Backend builder can be slow on poor hosting or long pages (see the future of Divi 5.0)
Shortcodes when you deactivate (see the future of Divi 5.0)

Table of Contents
Divi Builder Introduction
The Divi builder was introduced in 2015 as a stand-alone plugin by Elegant Themes and has since then evolved into one of the best page builder plugins on the market. With the Divi builder plugin, you can build websites without the need for any coding skills.
The Divi Builder Plugin broke from the traditional WordPress page-building structure by allowing users to easily create pages with any number of components. It features an advanced drag-and-drop editor and an ever-growing library of pre-made layouts.
Difference between the Divi Builder plugin and Divi Theme
The Divi Builder Plugin and the Divi Theme are both created by Elegant Themes, but each serves a different purpose.
Divi Builder plugin
The Divi builder is a stand-alone plugin that you can use on any WordPress theme. You just install it as any other WordPress plugin.
Divi Theme
The Divi theme is a fully functional responsive WordPress theme and it includes the Divi builder.
The Divi Builder Drag & Drop Features
In this section of our Divi Builder review, we are going to cover the most important features of the Divi builder.
Let's see the features and functionalities the Divi builder has to offer.
The Visual Builder Experience
The Divi Builder interface has both the 'back-end Builder' and the Front-end 'visual builder' interfaces. Divi builder's best use is in the visual mode which allows front-end page building on websites.
The visual builder which is it's latest gives a revamping and amazing experience. It is not confined by the dashboard like the standard Back-end Builder.
The visual builder has more configuration and customization options. All its features and functions make content creation and design adjustments faster and easier.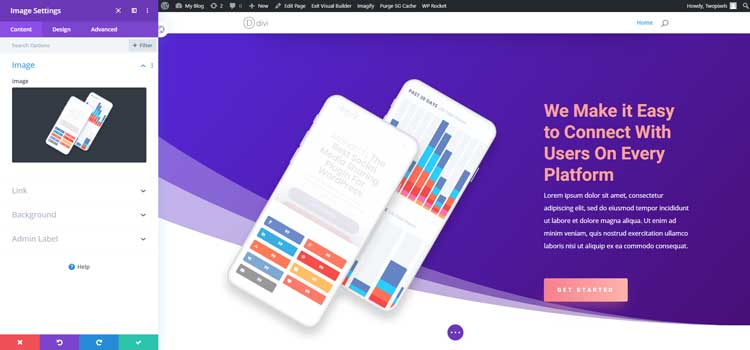 Responsive Editing
Responsive editing is necessitated by the ever-increasing mobile devices in the world. A large percentage of website visitors will use smartphones and tablets instead of desktops.
The Divi builder has Native SRCSET support for all images. The Divi builder automatically makes images responsive to size adjustments.
Its Responsive editing feature allows you to make changes to any element. This will allow you to make your website look good on any device.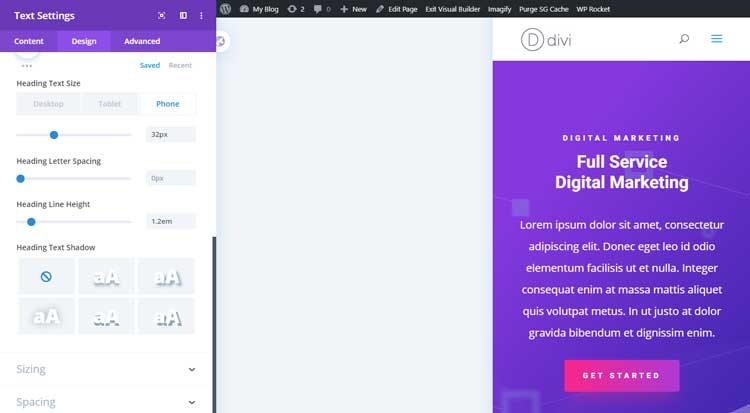 46 Divi modules and 16 WooCommerce modules
Divi builder modules are the content building blocks used to create websites when using the Divi builder plugin. Without modules, website developers would have to use codes to build their sites.
The aim of Divi is to make website development easy. Text can be added through a text module and an image with an image module.
It is much easier to use Divi builder when you have great modules. All the modules are designed to allow you to easily add specific types of content to your website.
The Divi builder comes with 46 innovative modules for the builder Recently Elegant Themes have added an additional 16 new modules for WooCommerce.
Each module can be adjusted and customized to the developers' preference. These modules can be moved by drag and drop within pages. They can also be saved for use on other sites or pages.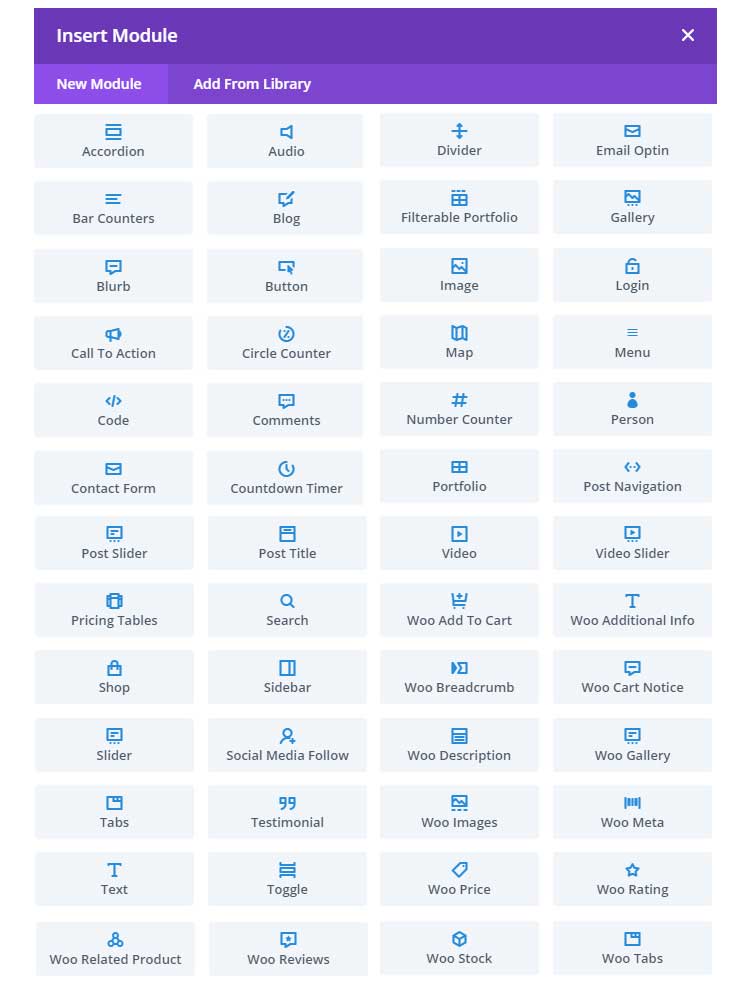 Tons of Column Options
Divi visual builder currently has column options and an improved column editing interface. The developer now has an endless list of column structure design possibilities and options.
You can easily add or delete and rearrange columns on the page. The entire column structures can be changed and columns full of modules dragged to new locations. It makes page building a whole new and improved experience for every developer.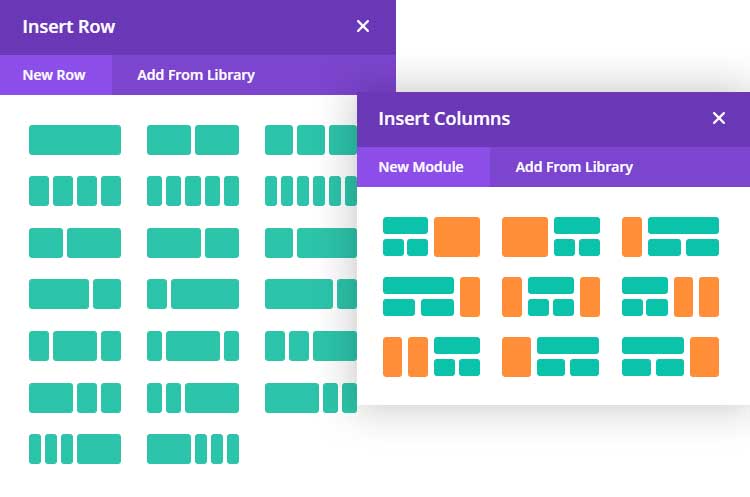 Dynamic content
Dynamic content refers to content pulled from your website's database. Usually, dynamic content is managed via WordPress or your plugins. It can be the website's title or description.
It can even be used in custom fields created by you or your plugins. In the past, all contents of posts built with Divi builder were quite static. Dynamic content allows all static content to be connected to dynamic content entries.
When you click the dynamic content icon, you'll get a full list of all available content. Then choose your desired item. Thereafter you can customize its output and connect it to the module.
Whenever that content is changed, it will automatically update. It will update within the module, on the page, and across the website.
With dynamic content, it is possible to generate content for an entire layout from dynamic sources. It makes the process of creating and updating blog posts simplified. Without touching the builder, you can automatically build posts
Divi Portability Import & Export
The import and export of layouts with the Divi builder are clearly one of its most valuable features. This feature is used to save and send data from one website to another.
Improved versions of the builder have more portability options. This portability system provides flexibility for website development. In addition to layouts, libraries, settings, pages, and modules are now portable.
Thus the Divi builder portability system works anywhere and transfers anything. The speed and simplicity of achieving this task are quite impressive.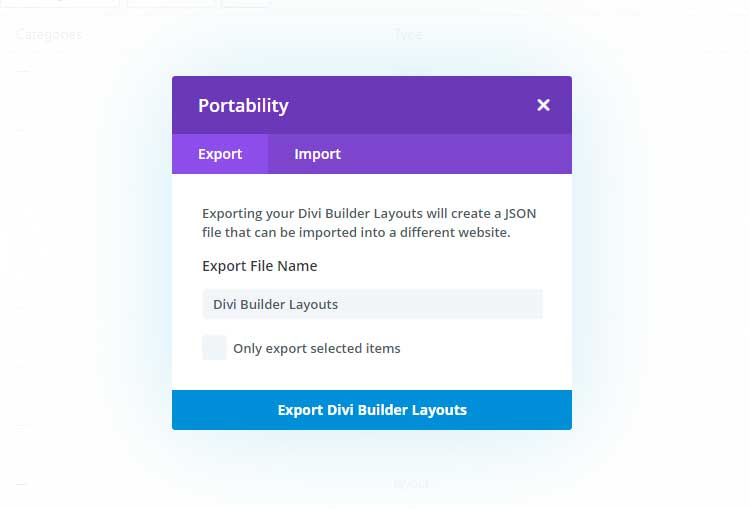 Global Elements & Styles
A Global library item is a Divi module; a row or section that syncs between all pages it is used on. It appears exactly the same on any page it is added to.
When changed on one page, it will be updated on other pages to which it has been added. This way, you don't have to edit every single page when you want to make changes.
It is very time-consuming to keep adding the same element on several pages. You can simply make any repeated module or section on your site global.
You can selectively sync individual settings for each module. Global modules are not just time savers but they also ensure consistency on your site.

Wireframe mode
In Divi's wireframe view, you can edit your website with blocks.
It makes the visual builder more flexible to varieties of building styles and It can adapt to individual developers' editing styles, experiences, and preferences.
Making transitions from a visual, mobile device, or wireframe view while editing your page is easy. This will come in very handy for those who prefer simple interfaces for editing pages.

The Divi Role Editor
The role editor is a feature used for enabling and disabling permission settings for Divi user roles. It gives the developer the power to control what a WordPress account user can view.
Giving WordPress users full access to the dashboard may have consequences. A good number of clients are not familiar with WordPress. They may ruin the design or the website as a whole leaving it to the developer to fix.
The Divi Role Editor has a very easy-to-use interface. There are usually five different roles on WordPress to choose from. The administrator role gives unlimited access and complete control over the site. This role should be disabled in order to protect the site's themes, plugins, and core files.
The 'editor' role is a better option for the client. It gives access to edit pages, posts, comments, links, tags, and categories. The user cannot access the site's themes, core files, and plugins.
The third role is the 'author'; authors can only access personal posts. The 'contributor' can write access and edit but not publish posts. The 'subscriber' can only receive updates, read and comment on posts.
After assigning a role, you can define the capabilities and access of the roles. You can also control what types of settings they are allowed to edit. The client will have just the tools required to edit content.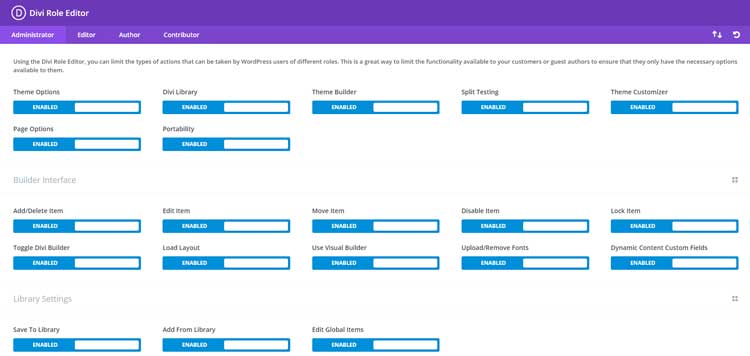 The Divi Builder Helper With +70 Videos
The Divi builder comes with a help system to assist Divi users. This system consists of over 70 instructional videos.
The instructions videos cover a wide range of topics. For almost any issue you encounter, there is a help system. It is a unique system that allows you to watch and follow along while building.
You can resize, relocate, pause, turn off, and turn on the video while building. It makes website building a worthwhile experience, especially for newbies.
Multiselect and Bulk Editing
The 'multi-select' and bulk editing features give speed and efficiency to developers. It allows multiple items to be selected at once.
You can select as many items as possible to perform a single action. These bulk actions include drag, drop, cut, copy, delete, and paste. The items can come from different rows, columns, modules, and sections within a page.
You can even perform a bulk edit on a collection of different items. This feature saves designers time spent on repetitive and tedious tasks. It is also easy to execute; you hold down the shift key and then select the items within the page. Once you select it, you can edit the entire collection of items.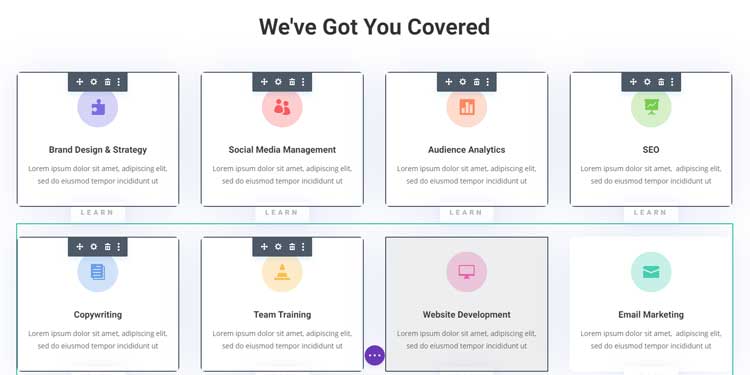 Divi Color Manager and Magic Color Suggestions
Divi builder comes with a new interface that makes it easy to manage colors on your site. All the colors are expanded into their own color schemes on the color scope. Each row consists of unique color schemes built from colors in your palette.
The color manager is designed to boost the designer's creativity. This powerful functionality will also save time and ensure design consistency. It gives quick access to a customizable color palette for creating desired color schemes. This color system is very efficient in many ways:
Access to Recently Used Colors
A 'Recent Colours' tab system saves all the recent colors used. It keeps track of all colors designers use. If you cannot recall the colors used previously, you can always find them. As you explore different ideas, the colors you recently used can be accessed with just a click.
Color Suggestions
Selecting colors can be quite difficult, time, and energy-consuming for designers. To make the designers' job easier, the Divi builder gives amazing color suggestions.
It uses saved and recently used colors to provide color suggestions. The color algorithm works with the principles of color combinations.
The system is automated to find colors that complement the ones in use. These suggestions are displayed in the color pallet for easy access.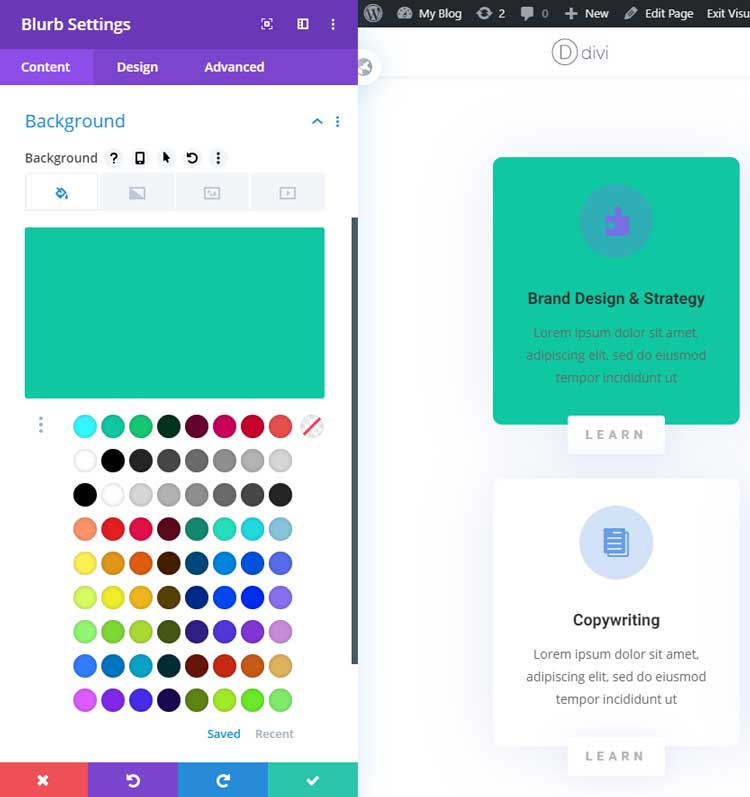 Email Opt-in Provider Support
Divi builder comes with an email opt-in module for visitors to subscribe to your mailing list. This module supports about 20 popular email marketing providers.
Thus, you can build your list from so many platforms. The module is also flexible to accommodate your creative custom designs.
You can create custom fields and build segmented lists of subscribers. This module allows you to use a spam protection third-party service.
Contact Form Builder
There is a built-in contact forms module for building simple or complex contact forms. The module consists of features such as dropdowns, checkboxes, and radio buttons.
The Divi contact form module comes with field validation rules and conditional logic. Contact forms can be customized to suit the nature of the information required.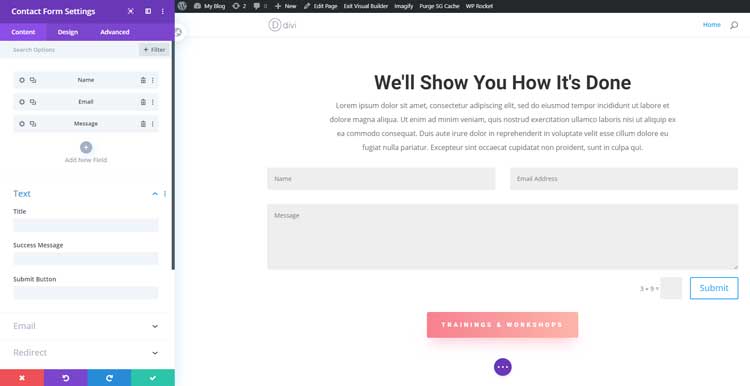 Split Testing
Divi builder comes with a function that allows split testing to evaluate your WordPress website. This function is known as Divi Leads.
Visitors are used to validating the content and design of the website. You can use Divi Leads to broadcast different versions of your site to other visitors. Divi Leads is a built-in conversion tracking system. It tells how effective each tested variant is.
You can test varying colors, headlines, or layouts using this method. It gives an insight into how the website is in accomplishing the owner's goals. With this method, you can figure out the effect of each change you make on your site.
It tells you whether a change will improve or reduce your conversion rate.
Undo, Redo, & Revisions
Every action you perform while building in the Divi builder is saved in your editing history. You can undo, redo and make revisions with ease.
Divi builder automatically saves your progress when you are working. It works like a digital sketchbook where you can flip forward and backward.
You can make comparisons between changes and navigate through with ease and speed.
Save, Import & Export Elements
Divi builder comes with layout pack designs that include modules, rows, sections, and pages. However, you are not restricted to using just these premade layouts.
You can create and save your layouts on the Divi library. These layout packs can be easily accessed, edited, or re-used on any page on your site.
You can also import Divi layouts shared or sold by others into your Divi library. The layouts you created and saved can be exported to other websites.
Translated into 32 Languages
Divi builder is a global platform that recognizes the needs of non-English speaking users. Hence, Divi builder has been professionally translated into 32 languages.
These are the front-end elements, interface, form fields, and descriptions. This benefits not just owners and developers but also the website's visitors.
The right-to-left RTL language support can be enabled on the WordPress dashboard. This changes both the interface and front-end elements to the desired language.
Divi Theme Builder 4.0
The Divi builder version 4.0 comes with a brand new theme builder. It is a fully-featured system for building WordPress website templates.
With this, you can create your desired website structure. You can edit the headers, footers, or any part of the Divi theme.
You can assign your customized template designs to specific parts of your Divi website. It could be blog posts, category pages, or your entire website template design. You create the template and assign it as you desire.
There are so many design possibilities that you can make with the theme builder. Here is a list of a few:

Custom Header & Footer Builder
With Divi builder, you are not restricted to the standard headers and footers. Divi builder gives you complete control of these using its builder and modules.
The current Divi 4.0 update gives you more layout options and more control over its elements and design. You can create custom headers and footers for individual parts of the website.
You can also create a global header and footer that affects the whole website.

Site-Wide Post & Product Templates
With Divi's Theme Builder, you can create site-wide posts (with a custom featured image) and product templates.
These posts and templates will change the structure of posts across your website. You don't need to code Child Themes to modify your theme's structure. Everything can be designed in the Divi builder.
Posts can be displayed automatically using Divi's Dynamic Content system.
Custom Category Page
The Theme Builder can also be used to create custom index page designs. This includes custom category feeds. It provides complete control over your website's category designs.
You can use the Divi blog module and its design settings to customize those post feeds.
Other Custom Pages
You can use the theme builder to create custom templates for absolutely anything: Search results, archives, tags, homepages, 404 pages, and more. Since you have complete control, you can create your desired structures.
Hundreds of design options
With the Divi builder, you have access to amazing design options.
Fonts & Text Styling
Typography is an indispensable part of website design. It sets the tone of professionalism in the mind of readers. It improves user experience and can influence the success of your website.
Thankfully, you get access to a full range of text and Divi fonts. There are over 1400 Google fonts and a thousand weights and styles. You can pick from these hundreds of web fonts or upload your own.
Customization of text sizes, spacing, and line height is possible. You can control all standard text elements like Divi anchor links, lists, and block quotes.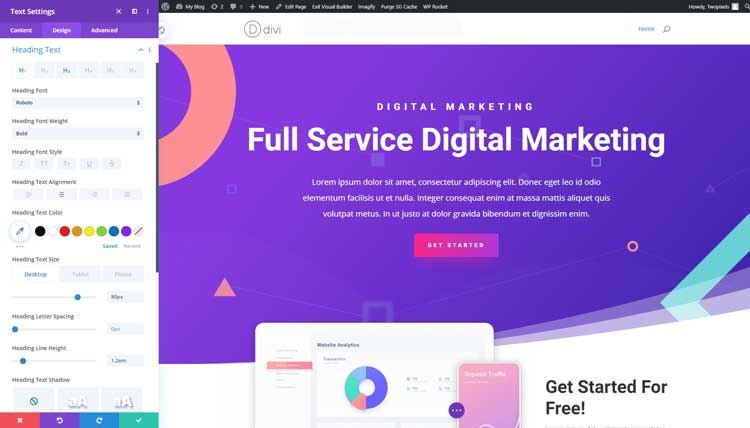 Divi Hover Effects
Using Divi's hover options, you can create all kinds of stunning hover effects. You can carry out very interesting and creative experiments with your hover effects.
The hover options have a unique and amazing interface for design and customization. Customizing a module's design on hover is really easy.
Enable the hover options by clicking the icon above the desired design. Thereafter, you switch to the hover tab to modify and preview the design.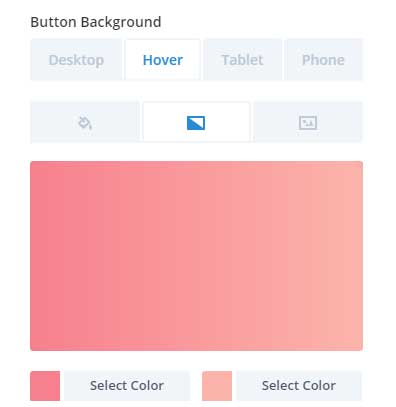 Shape Dividers
Divi's shape divider is a feature that you can use to give your website a unique flair. It gives you the option of adding custom shapes and effects to your website.
They can be used as transitions between blocks of content on your pages. You can achieve this by placing them above or below sections on your pages.
There are twenty-six shapes to choose from. Each of these can be resized, flipped, combined, or repeated.
You can get creative in designing perfect shapes to add beauty to your website. Divi's shape dividers are very easy to use and customize.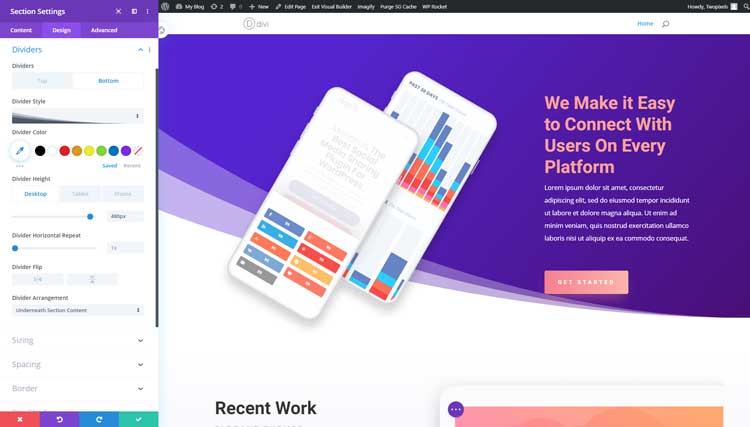 Border Options
Divi builder makes it easy to manage border options. For all modules, rows, and sections you can use the new border options interface. It is a very simple and intuitive UI.
You can customize your border color, size, and style. Each edge can be adjusted individually to suit your taste.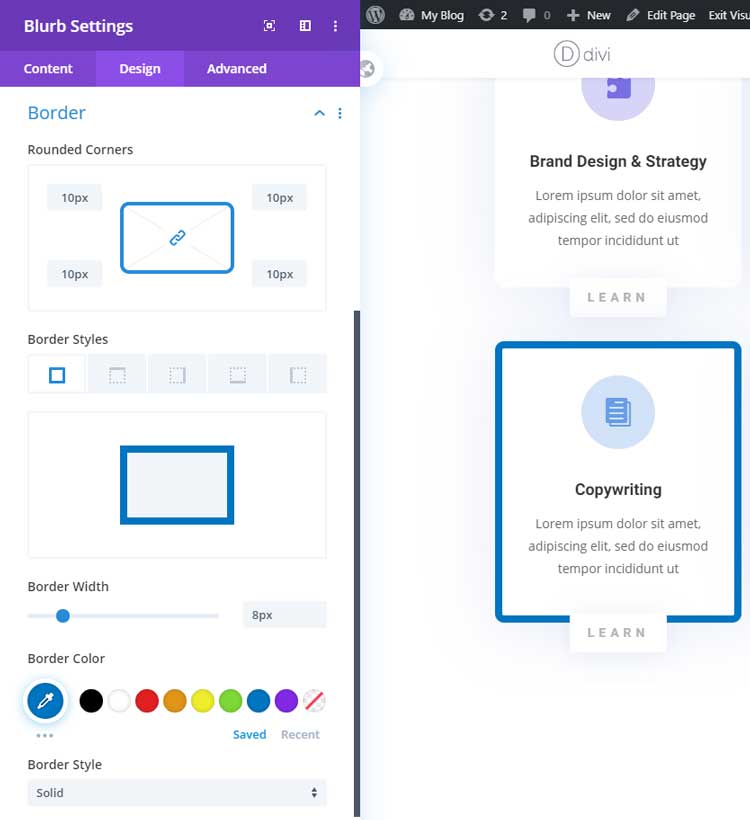 Animations
Good animations can lure users to engage on your website and give life to your page. Animations on Divi builder have seven different styles.
They include; Fade Slide, Bounce, Zoom, Flip, Fold, and Roll. Each different animation style creates a unique effect for different types of content. Each style can be highly customized using advanced animation controls.
You can make your animations fast and snappy or slow and subtle. You can add and combine animations to any elements on your website. The right speed, intensity, and timing can make your page come alive.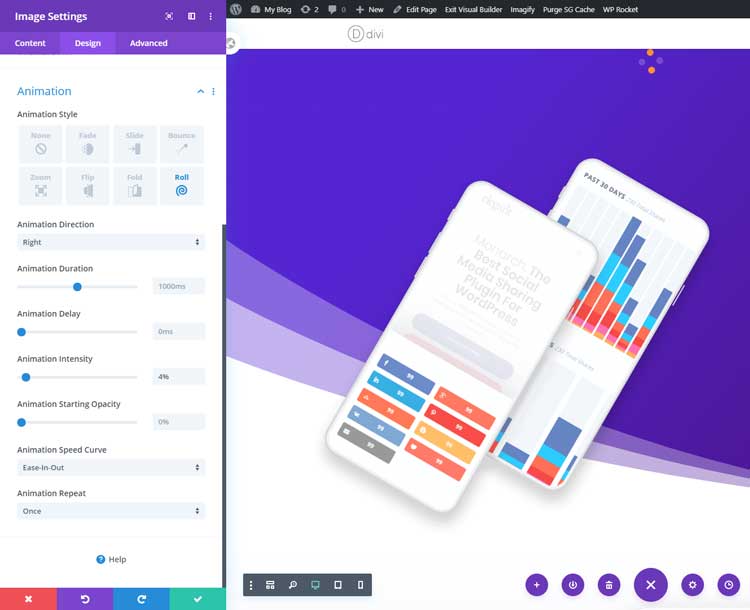 Drop Shadows
Every module, row, and section in the Divi Builder has a full set of box shadow options. Creating and customizing these shadows is very easy to do in Visual Builder.
You can control the shadows' color, position, blur, and strength and build inset and outset shadows.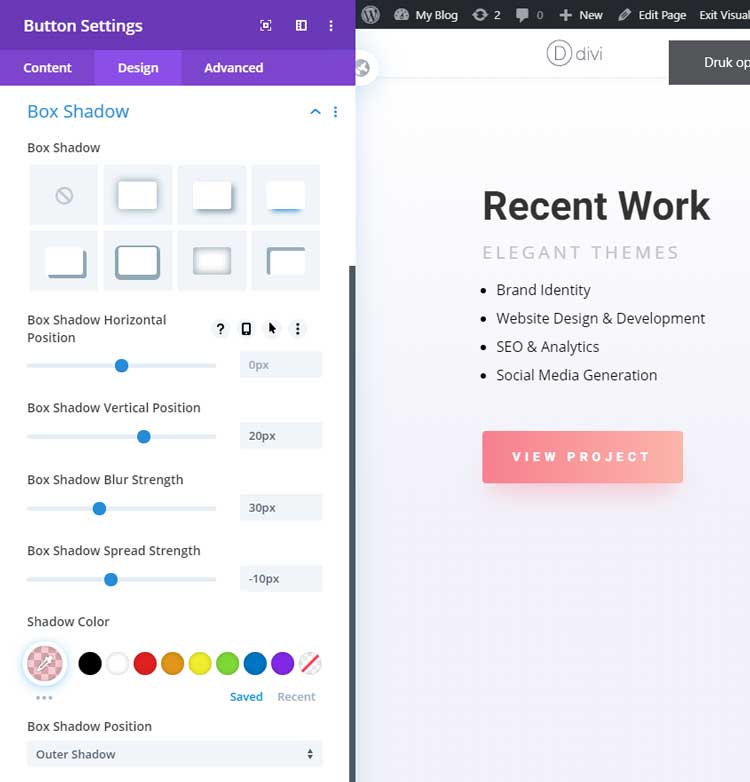 Text Shadows
Adding great text shadows to your page is now simpler than ever. Thanks to the shadow that can be applied to any text element with a single click. It has five pre-designed text-shadow styles that work great with any text size.
These styles are perfect starting points for further customizations. The current text shadows interface works with all modules.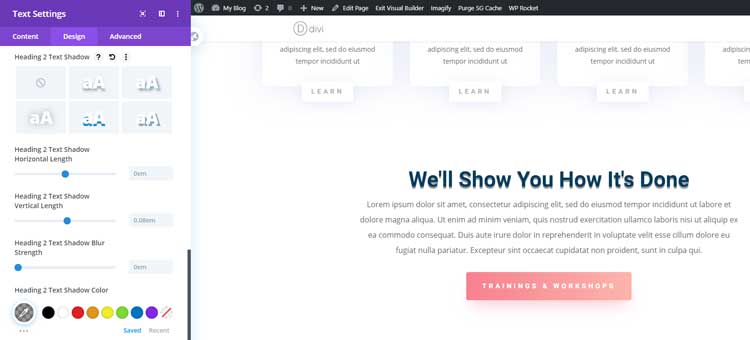 Transform Controls & Effects
The Transforms interface has been built to allow for visual control over your design. With Transform controls, you can adjust the appearance of any module, row, or section.
This is easily done using a combination of settings. Divi builder visual controls describe each transformation in an attractive way.
You can watch elements transform right before your eyes on the page. This feature is made more perfect by the tons of design possibilities available.

Filters & Effects
Divi builder has a full range of colors, filters, effects, and blend modes for website building. These can be applied to any image, module, row, or section.
There are Hue, Saturation, Brightness, Contrast, Invert, Blur, Opacity and Sepia controls. These controls allow you to quickly adjust the appearance of any element.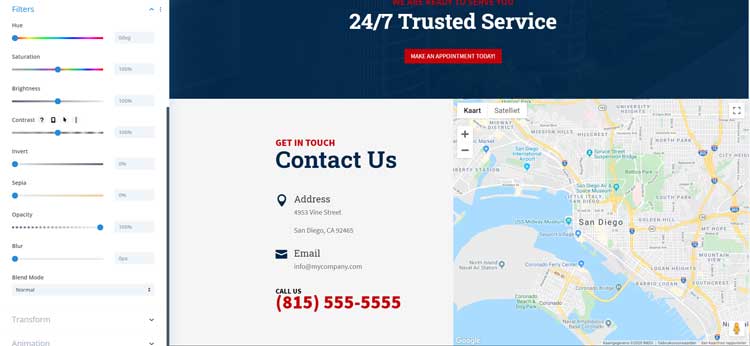 Background Options
The sections, rows, columns, and modules on Divi builder have background options. These background options come in four tabs: Color, Image, Gradient, and Video.
Within each tab, you can enable the background style. Relevant settings for particular styles can be configured in the tabs. Every option related to background images is inside the background image tab. This is the same for the other tabs.

Advanced Code Editing
Developers who use custom CSS and custom code in Divi builder will find this feature exciting. Using your CSS rules, every part of every module can be customized. The custom code can be added to various parts of the website.
It features rich syntax highlighting that makes it much easier to read and understand codes. Everything you write will be color coded and formatted automatically. Also, all lines will be numbered for your reference. The advanced code editor makes writing and editing code much easier.
WooBuilder for WooCommerce
The WooCommerce Builder consists of modules that can customize products, carts, and checkout pages for online shops. It can also be used to build product listings on your website.
Enabling Divi builder on a WooCommerce product automatically transforms the standard product template. The template is transformed into a collection of customizable WooCommerce modules.
16 WooCommerce Modules
The Divi builder has 16 Modules for WooCommerce that allow you to create and control any WooCommerce element. You can decide what shows up on your product listings and move things around.
You can even mix WooCommerce modules with standard Divi modules to create anything. These modules come with a full range of countless Divi builder design settings.
100+ Full Website Packs
Divi Builder has over 100+ website packs that you can browse through and import onto your page. Divi layouts are organized into complete website packs.
Each pack has 7 to 8 individually-designed pages suited for each particular type of website. These packs are designed in a unique and cohesive style that can be modified to meet your needs.
Every Divi user has instant access to countless world-class designs. These designs are on a variety of subjects inside the Divi Builder. All you need to do is import the design and add your content.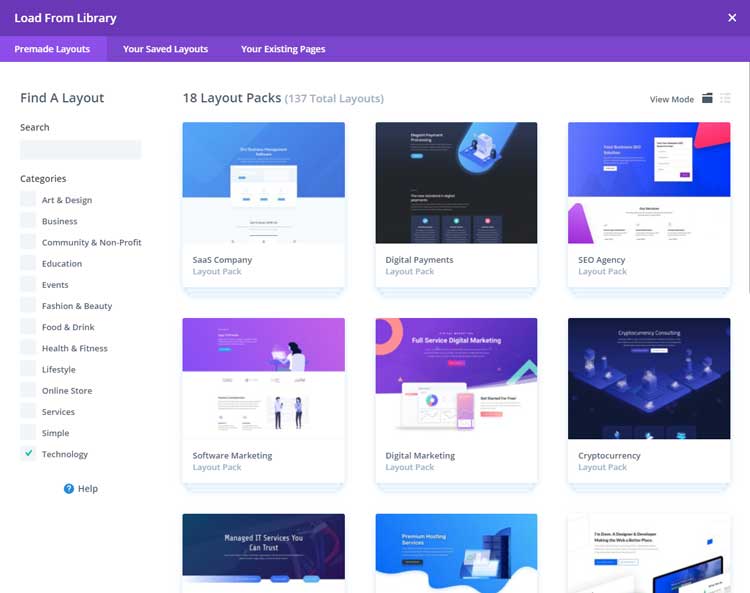 Quick Access to Premade Layouts
All of Divi's amazing layout pack designs can now be browsed and searched within the builder. You can click on your desired category for a list of relevant layout packs.
Thereafter, you click on any pack to view all of the page layouts it includes. Once you find a layout that you want to use, it can be imported directly onto your page. That is the page where the design and content can be easily customized.
Premium Divi Child Themes
There are many Divi developers in the community that build custom Divi child themes. A child theme is a customized design with more functions and pages. These designs can be bought from several marketplaces such as our own Divi marketplace.
Things That Could Be Better
The backend builder can be slow on long pages
Compared to other page builders, the backend of the Divi builder can be quite slow. This occurs when it is used in a poor hosting environment or on long pages. It may affect your workflow. However, if you have decent hosting, this should not be an issue for you.
Shortcodes When You Deactivate
Divi builder is a shortcode-based builder. As long as the Divi builder is active, these shortcodes will be replaced with your intended layout.
Unfortunately, Divi's custom shortcodes do not transfer to other page builders like Elementor, Beaver Builder, or WPBakery. In other words, it's a pain switching away from Divi to another page builder.
If you plan to use only Divi, this is not a problem. However, if you want to switch to another page builder, you'll have to build the website from scratch.
Divi marketplace & other Elegant Themes products
Elegant Themes has its own marketplace where third-party developers create plugins, Divi child themes, and layout packs. If you need something that is not available in Divi builder then you can get it here.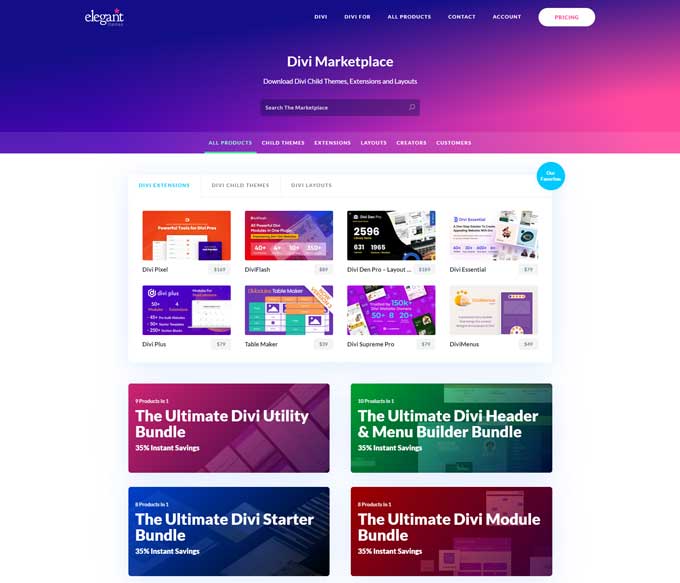 Divi Cloud
Divi Cloud is like having your own personal library filled with all of your layouts at your fingertips. The innovative Divi Cloud feature makes it easy to save all your layouts on the cloud and access them whenever you need them, no matter where you are or what device you're working on.

Divi Teams
Divi Teams make running a successful web design business easier than ever before. Invite team members and your clients to join you on the Divi platform and control what they can do with it – from building an entire website together to delegating tasks with ease.
Take the hassle out of running your business and collaborate with others in the Divi ecosystem. As an added bonus you'll also be able to provide your clients with access to the support team system for quick help anytime.

The future of Divi 5.0
The developers of Elegant Themes are working on a huge Divi 5.0 update. They will basically rebuild the entire Divi builder.
I will give you the main points that they will focus on:
They are working on Divi 5.0, a new version of Divi that will use different technologies.
Divi 5.0 is an update that improves performance, stability, scalability, and extendability.
It will come with a new API that will allow our team and the Divi development community to build features better, faster, and with fewer mistakes.
Divi 5.0 will use a different way to store information than previous versions. This means no more shortcodes!
You can read all about it here:
https://www.elegantthemes.com/blog/general-news/the-future-of-divi
Divi Builder Pricing
With all these attractive features, how much does Divi really cost? Elegant Themes offers you two Divi pricing packages. You can get an Elegant Themes membership for the $89/year package or go with the $249 one-time payment.

All packages come with Divi theme, Divi builder plugin, Extra, Bloom, Monarch, and product updates. Stellar support, hundreds of website packs, and unlimited website usage are also part of the pack.
Make sure to check out my "Divi official promo code" page for the latest discount on Div builder and other Divi products.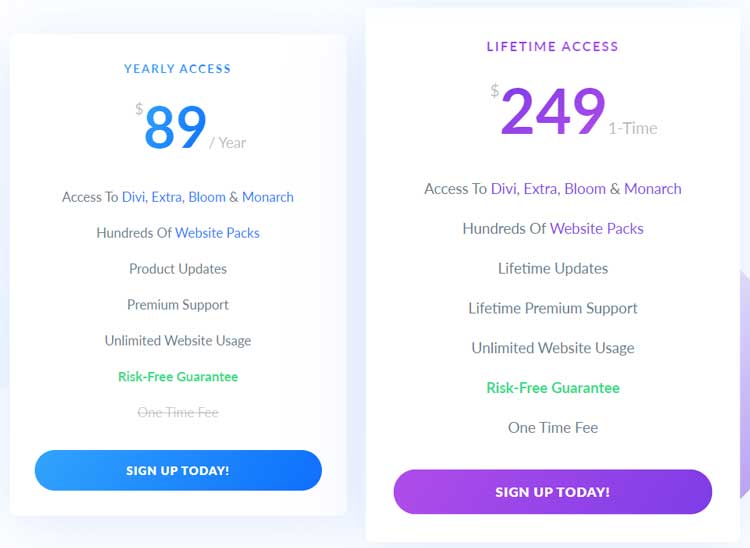 Final Thoughts
Divi builder is a truly flexible tool that can be used to create any type of website with WordPress. Its years of existence have witnessed so many thoughtful improvements. Divi builder gets more attractive with each new update.
The Divi builder is my to-go page builder for many years.
You might also like…