Have you been looking for an easy way to create a carousel in Divi?
Take the hassle out of creating carousels by using one of the free or premium plugins specifically designed for Divi. These simple plugins make it easy to add eye-catching, interactive sliders and carousels to any page with a few clicks of your mouse. Plus, they're mobile-friendly, so you don't have to worry about visitors not being able to view them from their phones or tablet.
Your pages will be beautifully presented with engaging visuals that will draw visitors in and keep them on your Divi website longer. And because some of these plugins are completely free, you can save money while creating stunning visual effects quickly and easily without breaking the bank!
Follow this guide and see just how easy it is to add an amazing Divi Carousel with any of these (free or premium) Divi plugins!
Table of Contents
What is a Divi carousel?
A Divi carousel is an ideal way to showcase images, products, services, and more on any page. It provides a great way to display multiple items in an organized and visually appealing manner.
Divi carousels can be customized with features such as autoplay slideshow settings, background color settings, and transition effects. Divi carousels also provide users easy access to the information they are seeking; there's no need for scrolling or clicking through pages of content.
Additionally, Divi carousels save space on your website, all while giving readers the information they need about your business quickly and efficiently. Divi carousels are simply an efficient, effective way to present your products and services in a beautiful way.
Divi theme does not have its own carousel module included out of the box, so it needs to be implemented manually by users.
Plugin option 1 (Free): Carousel for Divi by Daniel Völk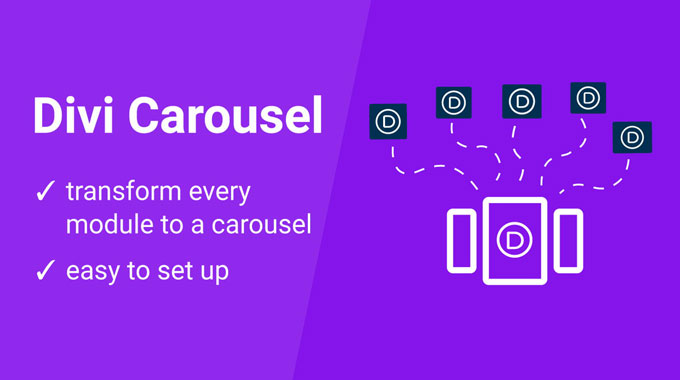 The Divi Carousel plugin is a great tool for transforming any kind of content into a carousel. It allows you to easily add some special classes to any module, row, column, or blog post and quickly transform it into an attractive and interactive carousel. This way, you can show off your content in a visually appealing way, while also engaging your users more effectively.

With Divi Carousel, there's no limit to what you can do. Whether it's columns, rows, or blog posts – everything can be turned into eye-catching carousels. You can even combine multiple Divi modules within the carousel to create an even richer experience for your visitors.

Moreover, the plugin offers plenty of customization options so that you can tailor the look and feel of your carousels to match the look and feel of your site perfectly. From changing colors, fonts, and icons to adding animation effects or navigation arrows – with Divi Carousel you have all the control over how your content looks when displayed as a carousel.
You can download this plugin for free on the Divi marketplace at Elegant Themes.
Plugin option 2 (Free): Wow Carousel for Divi Builder by DiviPeople

Wow Divi Carousel Lite is a plugin for the Divi builder that enables users to quickly and easily create beautiful, responsive carousel sliders.
It allows you to have full control over the design with features like auto-play ON/OFF, auto-play speed control, infinite looping, show/hide navigation, and show/hide pagination dots.
It also comes with 3 FREE premium Divi modules – Divi Image Carousel, Divi Logo Carousel, and Twitter Feed Carousel – each of which provides you with more options to customize your design.
The Image Carousel module lets you build interactive image and text carousels that are perfect for showcasing products or services.

The Logo Carousel makes it easy to display clients or products in an eye-catching way, while the Twitter Feed Carousel helps you feature your team in a visually appealing design complete with text, images, and social links.

On top of all these great features, Wow Divi Carousel Lite is completely responsive and touch-friendly so it can be used on any device without sacrificing performance. Plus, it's incredibly lightweight yet incredibly powerful due to its optimization for fast loading speeds – meaning no time is wasted waiting for page elements to load!
You can get is Divi carousel module on the WordPress repository.
Plugin option 3 (Premium): Divi Carousel Module 2.0 by Divi Gear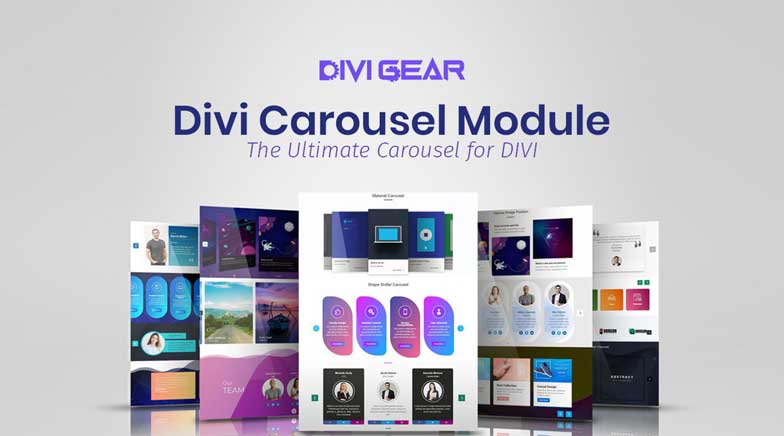 The Divi Carousel Plugin is one of the most user-friendly and powerful plugins out there. It gives you access to an unlimited number of carousels with advanced options and a wide array of design possibilities. You can create stunning, content-rich carousels for image, person, testimonial, and logo purposes – all at the click of a button.
What sets Divi Carousel apart from other Divi plugins is its exceptional features that allow you to control everything within one module. With these features, you have complete control over all aspects of your carousel designs and are only limited by your own imagination. Additionally, the demo page provides multiple crafted Divi carousel layouts that provide a variety of design variations for you to use on your website.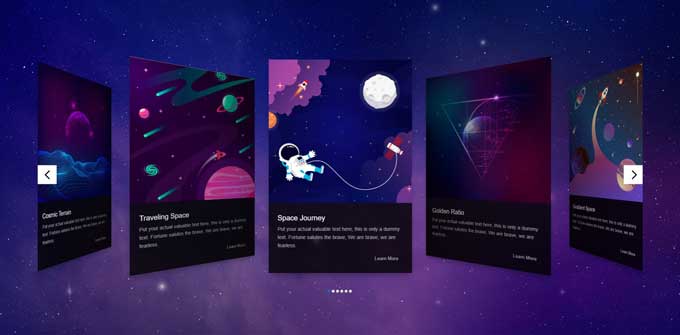 Using the Divi Carousel Module is very straightforward, even if you're not tech-savvy. All the features are self-explanatory so you don't need any extra instruction or tutorials – it's as easy as clicking a few buttons! Once you get started with this plugin, you'll be able to produce customized carousels in no time at all.
Content Carousel
With the diverse content area and button options, you can easily customize your presentation with images, videos, text, and even interactive components. You can also use it to highlight specific statistics related to your company or industry that will give potential customers more insight into what makes you stand out.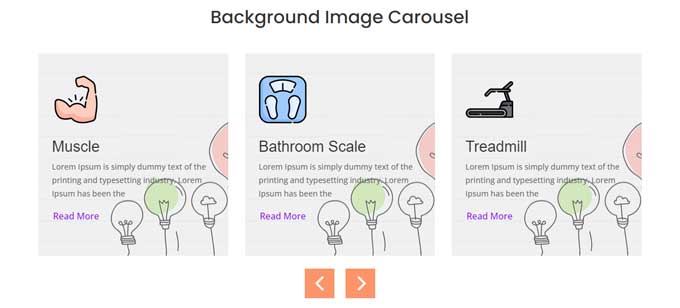 You can also add links that direct people directly to the relevant part of your website if they want more information.
Testimonial Carousel
The Divi Carousel module is an amazing way to showcase your customer testimonials. It has several dedicated fields that provide the perfect platform to present insights into a company's product or service.
In addition to providing the details of the person, such as their name, company, and occupation, it also allows you to share their opinion in an aesthetically pleasing manner.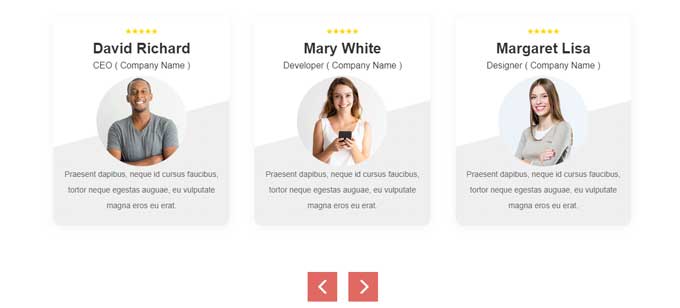 Furthermore, there is also a rating option specifically tailored for testimonials so you can easily rate each one with ease.
Team Carousel
The team carousel module is a great way to showcase the members of your organization in an engaging and interactive way. It allows you to introduce each member of your team, highlights their individual skills and experience, and build trust with potential customers who may be hesitant to work with you.

With the Divi carousel module, you can customize the design of your carousel to make it look modern and attractive. You can even add social icons for a more contemporary look. This way, visitors will be able to learn more about each team member with just a few clicks.
Image Carousel
The Divi Image Carousel is an incredibly versatile and useful module that can be used to add a visually engaging carousel to your website. This type of carousel includes an image filter, border, box-shadow, and overlay icon which are all dedicated solely for the purpose of displaying images.

With this unique feature, users can easily add a carousel slider of photos within any page or post on their website in order to create a highly dynamic experience.
Overall, the Divi Carousel Plugin has everything that webmasters need in order to bring their website's content and visuals up to date. With this powerful yet intuitive plugin, users can create beautiful carousels with ease in order to attract more visitors to their site while providing them with an enjoyable user experience.
Plugin option 4 (Premium): Divi Supreme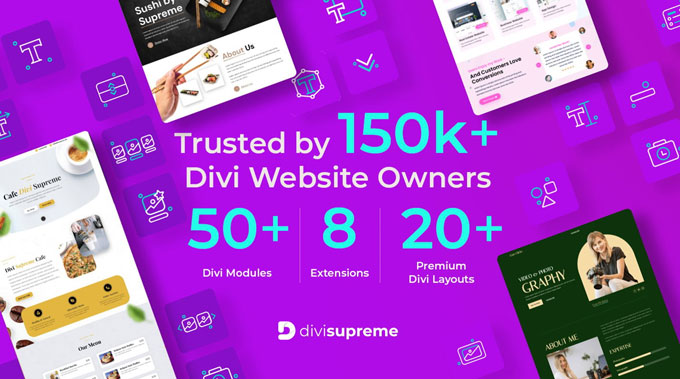 Divi Supreme provides users with three helpful carousel modules to help them create dynamic, engaging carousels.
The Image Carousel module enables users to showcase multiple images in a rotating slideshow format. This is perfect for displaying product images, photos from events, or portfolio images.
The Cart Carousel module makes it easy to feature products with pricing and add-to-cart buttons right on the carousel. This is great for showing off specific items you want visitors to take notice of.
Finally, the Blog Carousel module helps users create stunning posts slideshows that can be used to display their latest blog posts or news updates.
Image Carousel
Divi Image Carousel is the perfect way to showcase a series of images elegantly, with just a few clicks. It's a great tool to display portfolio pieces, client logos, photographs and much more in an attractive format. This module from Divi Supreme is incredibly easy to use; all you need to do is add some images, and the carousel will do the rest.

The image carousel module can be customized in many ways, including adding captions for each image or setting up the speed for how quickly each image changes. You can even decide which image appears first when the carousel starts – very important if you want to create a certain kind of impact! Plus, it's easily integrated into any page created with Divi thanks to its built-in module settings and controls.
Card Carousel
Divi Card Carousel is a unique and highly customizable module that allows you to create beautiful carousels showcasing text, links, badges, and images. You have full control over the carousel settings, including image and video lightbox/popup for images and buttons. The possibilities are truly endless when it comes to crafting attractive carousel sliders with this module. Plus, you can design an infinite amount of carousels with it!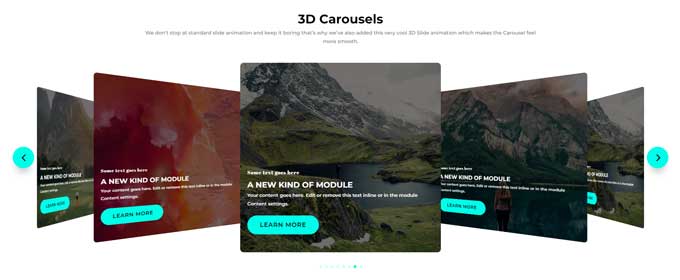 This carousel module is easy-to-use and versatile. With Divi Card Carousel, you can mix and match images, videos, texts, badges, and links – whatever your imagination allows! And thanks to its efficient lightbox/popup feature for images and buttons, you can easily design eye-catching content without any difficulty. Additionally, this powerful module enables you to customize almost anything about your carousels – from the height of the card to how many cards appear per slide – so that each carousel looks exactly as you envisioned it.
Blog carousel
The Divi Blog Carousel is an amazing way to showcase your blog posts in a visually appealing and eye-catching way. This unique feature of the Divi Supreme plugin provides you with a great amount of customization for your carousel, allowing you to choose from various Divi carousel layout options, color schemes, and font sizes.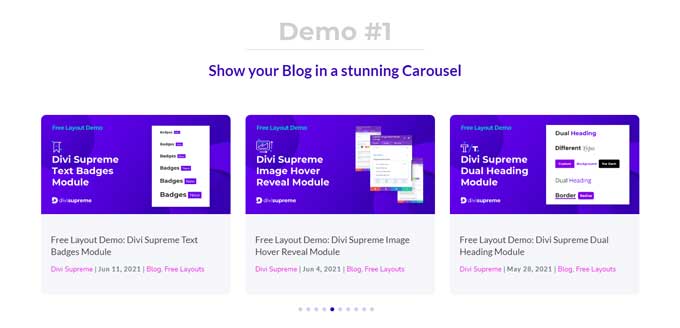 You are also able to choose which blog posts will appear in the carousel slider, making it easy to tailor the content according to your preferences. With the Divi Blog Carousel, you can create a beautiful and captivating experience for your readers that will make them want to stay on your page longer.
Plugin option 5 (Premium): Divi Carousel Maker by Pee-Aye Creative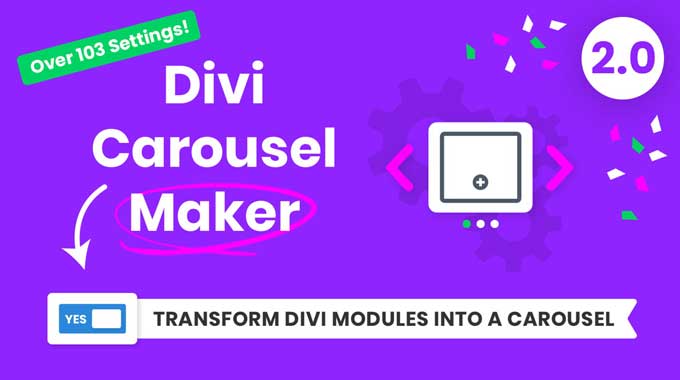 If you are looking for an easy way to create a stunning and visually appealing carousel with any of your Divi modules, then Divi Carousel Maker is the perfect solution.
With just one switch, you can quickly and easily create a carousel of any Divi module and then adjust the design settings according to your preferences.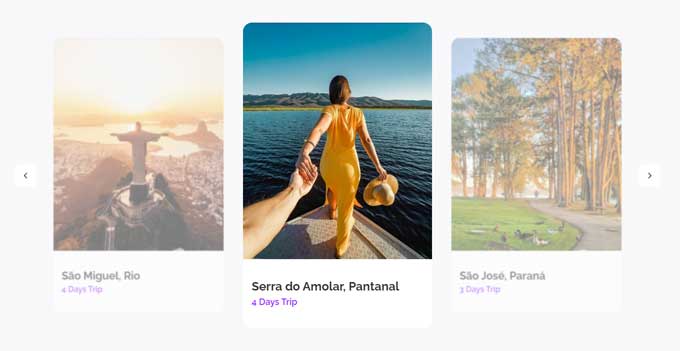 Creating a beautiful carousel with Divi Carousel Maker is quick and easy thanks to its simple yet powerful features. It's perfect for displaying images or content in an attractive way on any page or post layout. Whether you're a novice or an expert user of Divi Builder, this plugin has something special for everyone!
The Divi Carousel Maker also allows for maximum flexibility so you can easily rearrange the order and structure of your modules. You can also choose from a range of pre-made carousel layouts or create one from scratch using the drag-and-drop interface. Additionally, advanced users can take advantage of code-level customizations to get even more creative. With this powerful tool at your disposal, there's no limit to what kind of stunning and engaging carousels you can create!
Conclusion
Adding a carousel to your Divi website is easy with the right plugin. With both free and paid options available, there's no excuse not to add one to your site today! Thanks for reading and good luck adding your own Divi carousel.
If you have any questions or suggestions please let me know in the comments below.
You might also like