With Divi AI you can now use artificial intelligence on your Divi website just inside the Divi Builder.
with just a couple of mouse clicks you can generate text and images for your website.
In this guide, I will explain how to use Divi AI to create the perfect content for your website.
Table of contents
What is Divi AI?
Divi AI is a powerful tool that can help you create automated content that speaks your brand's voice. It uses natural language processing and machine learning to generate and curate content for websites, including text and images.
What you can do with Divi AI:
Generate On-Brand and In-Context Content: Divi AI learns about your website's content and continuously improves to generate relevant content that matches your brand and voice.
Auto-Generate Images: Divi AI quickly creates images based on what it already knows about your website and page content.
Refine Images Easily: Use prompts and quick actions to tweak and modify images with Divi AI effortlessly.
Auto-Generate and Edit Text Content: Divi AI assists you in writing professional website copy and blog posts with ease.
Divi AI is integrated inside the Divi Builder
Divi AI is a powerful tool that integrates seamlessly with the Divi Builder to make content creation and editing easier than ever before. With Divi AI, you can quickly and easily customize images, generate text content, and fine-tune both types of content using the same set of tools.
Here are some specific examples of how Divi AI can be used:
Image customization: With Divi AI, you can easily apply filters and quick actions to images to change their appearance. For example, you can make an image darker or lighter, add a border, or change its color.
Text generation: Divi AI can generate text content for a variety of purposes, including blog posts, product descriptions, and social media posts. You can provide Divi AI with a few keywords or phrases, and it will generate text that is relevant to your topic.
Text fine-tuning: Divi AI can also be used to fine-tune existing text content. For example, you can use Divi AI to suggest improvements to the grammar, punctuation, and overall flow of your text.
How to start with Divi AI
To use Divi AI, you first need to buy an Elegant Themes membership. Once you're a member, you can either sign up for a yearly or monthly subscription to Divi AI.
You can sign up for Divi AI by visiting the Divi AI landing page and signing up at the bottom of the page.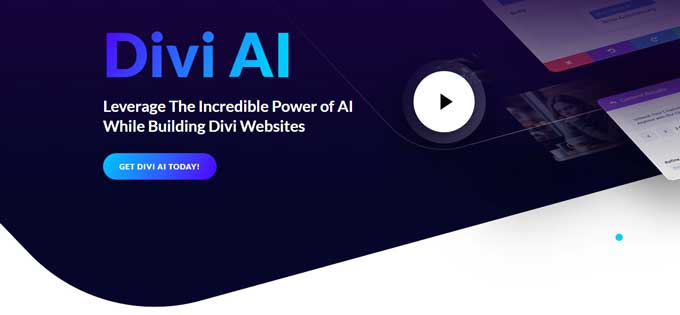 Divi users can try Divi AI for free, with access to limited features. Just make sure you have the latest Divi version installed. The free trial lets you use Divi AI for up to 100 prompts.
How to work with Divi AI
Divi AI is already included in the Divi Builder. Once you're signed up, there's no need to install or activate anything to start working with Divi AI.
You can access Divi AI wherever text or images can be added in the Divi Builder.
This includes all Divi elements (sections, rows, columns, etc.) and Divi Modules (text, image, blurb, etc.) that support text input or image uploads.
To use the Divi AI generator, simply hover over an input box and click the Divi AI button that appears in the top right corner.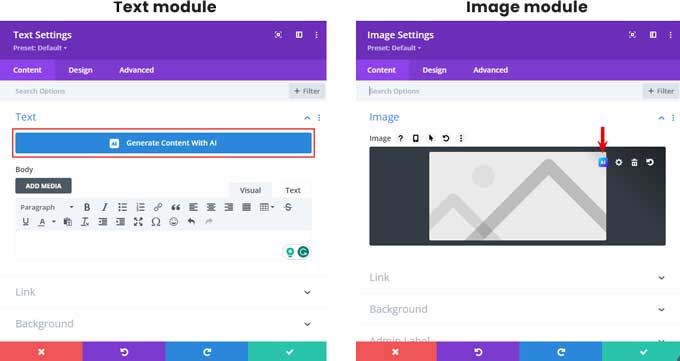 Using Divi AI for text
Divi Text AI allows you to create any text content for your website. It is a powerful AI writer specifically designed for your Divi website. With its understanding of your existing content, you can generate context-specific content for your website or page.
There are different ways to do this and I will describe them here.
Auto-populate the text field
To create text for your website using Divi AI, simply choose a module that accepts text input. In this example, I'll use the text module. At the top of the Text options, you'll find a prominent button labeled "Generate Content With AI" that you can click to generate text.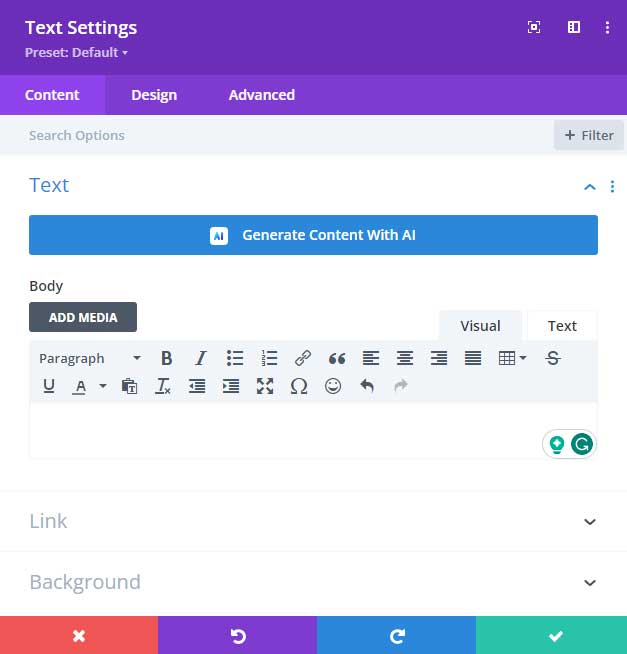 This will auto-populate the text content.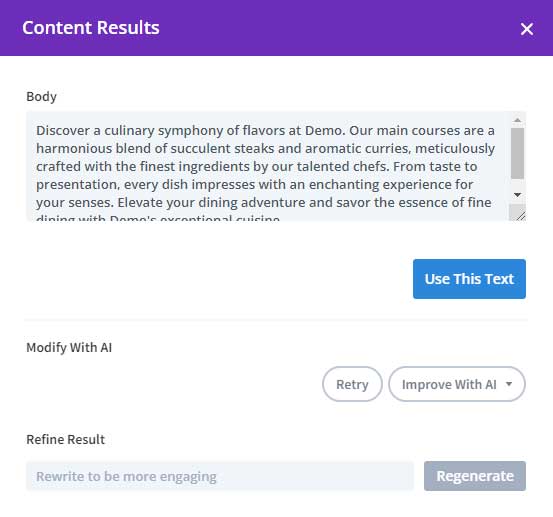 So how does this work?
Divi analyzes your page's content and context on your page. The more content you have and use Divi AI on your pages, the better Divi AI can generate accurate results.
So on my example page, I have some content about a restaurant. Divi AI will read that content and predict what should be in my text box.
When you accept the text you can click then on the AI icon for additional options.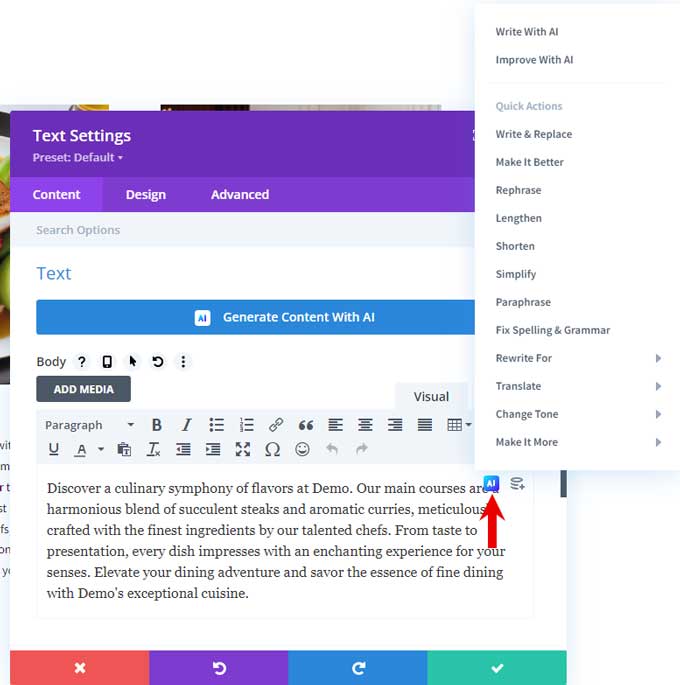 Manually populate the text field
To have more control over the content that is generated, you can choose the "Write with AI" option. This will open the Divi AI Text generator modal, where you can specify the desired content requirements.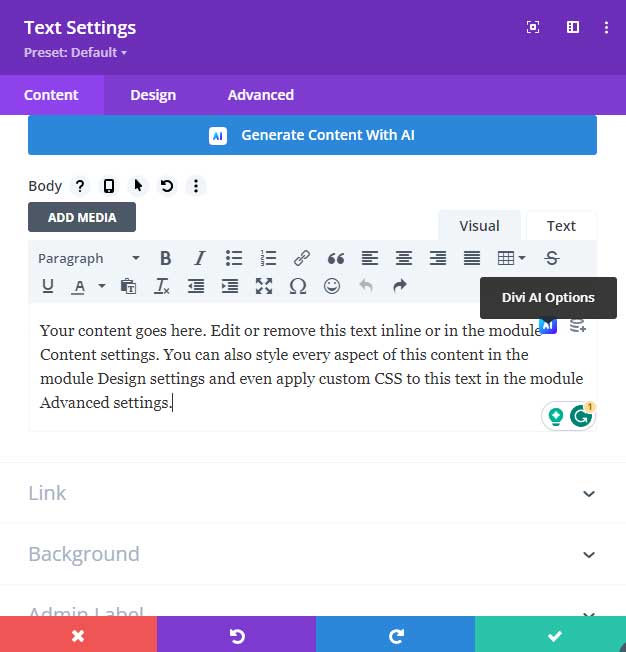 On the next screen, you can specify the content that you like to be written.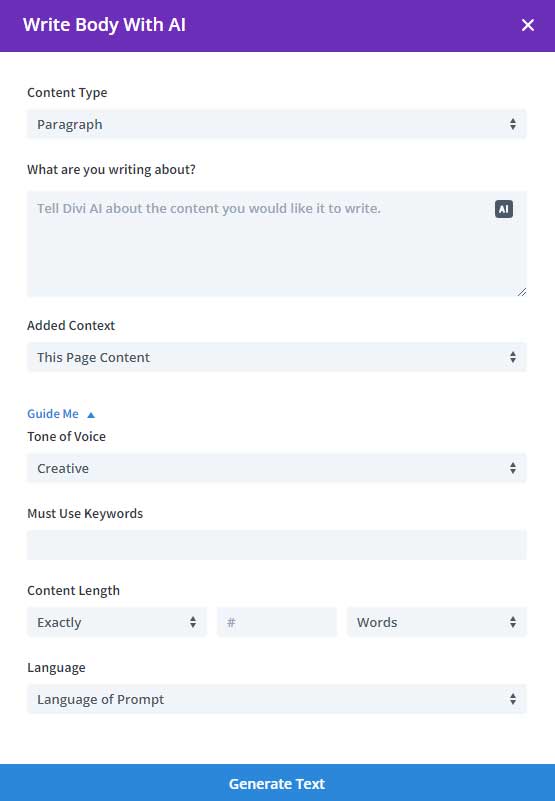 The Divi AI Text Generator modal offers various options to control the generated content.
You can choose the type of content you want to generate, describe the desired content, provide additional context, and use the "Guide Me" section for more advanced options.
With Divi AI, you can specify the tone of voice, include keywords for SEO optimization, set the content length, and select the desired language.
Using Divi AI for images
You can create images with any Divi image field such as image module, section, or row background image fields.
In this example, I will be using an image module.
Hover over the image box and click the Divi AI icon. You will get 2 options: "Generate with AI" and "Generate Automatically."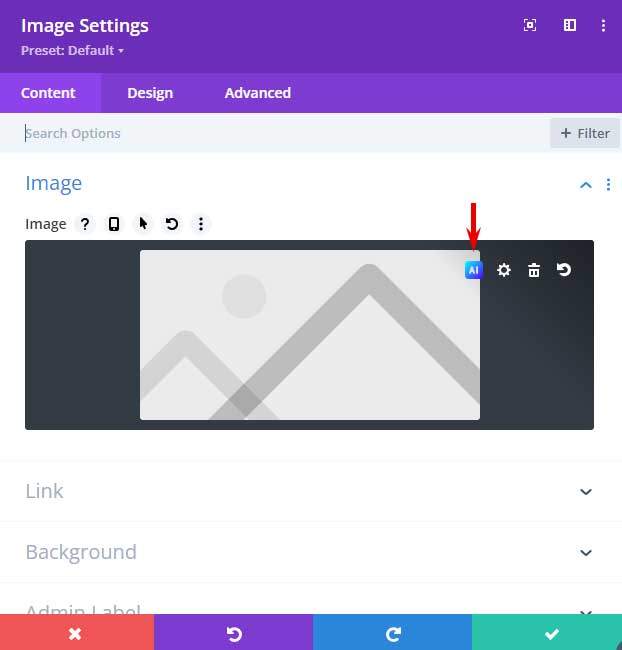 I will use the option Generate with AI and the next window will popup: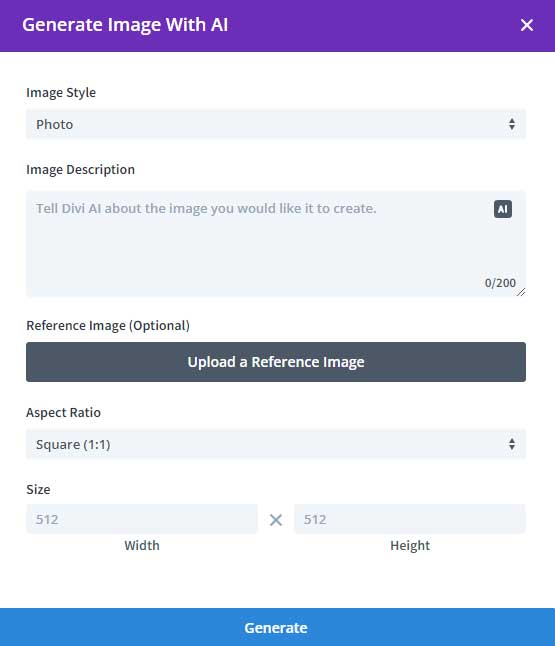 In the image style field, you can choose what kind of style the image needs to be.
You can choose from many different image styles.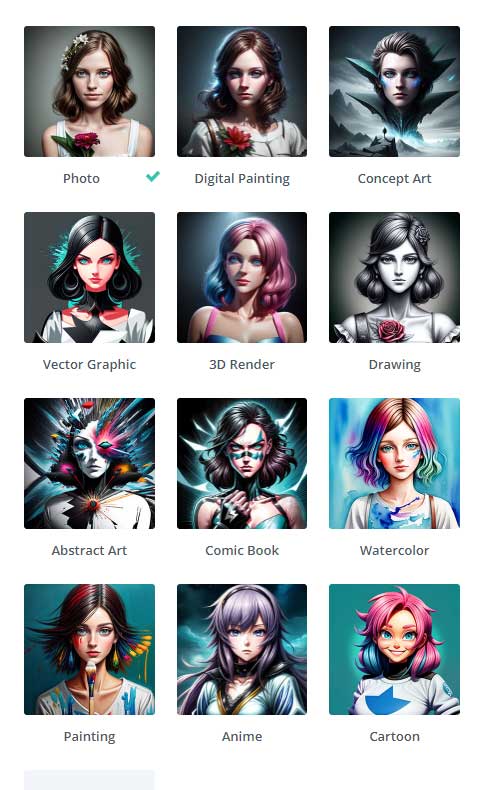 In the image description field, you can add your image prompt this is a description of the image you want.
You can also upload a reference image that will be used for your generated image.
In the aspect ratio box, you can change the image orientation and image sizes.
As a prompt, I use "A juicy, sizzling burger with melted cheese, crispy bacon, caramelized onions."
And this will give me the following images.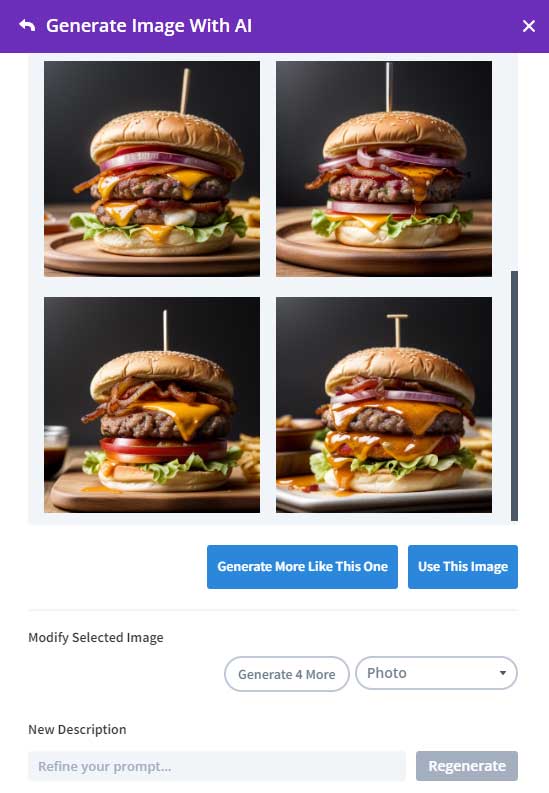 From here you can select one and use it as your image or you can select one and make more variations of it.
You can also refine your prompt and generate new images.
Divi AI pricing
Divi AI pricing is straightforward and comes with 2 pricing plans.
A monthly plan for $24 a month, or a yearly plan for $18 a month (billed yearly).
For both plans, you get unlimited text and image generation.
Get Divi AI With 20% Discount
Check this page for the latest divi discounts.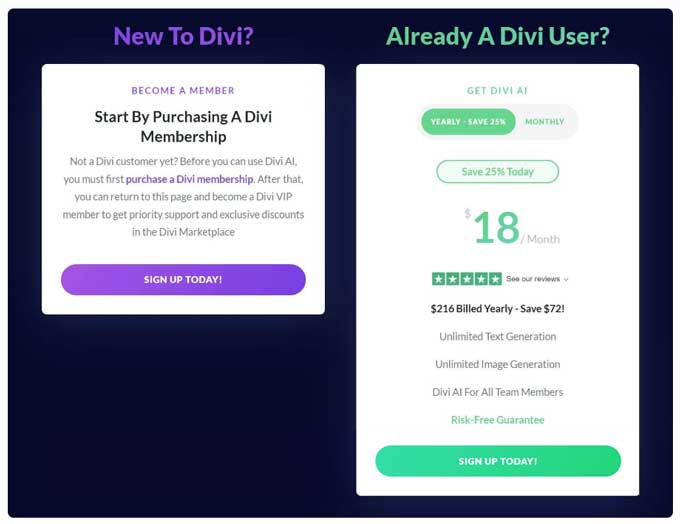 Divi AI roadmap
Divi AI does has a roadmap and that looks quite interesting. The features that are in the pipeline are:
Code generation: you will be able to generate custom code inside Divi.
Full layout generation: giving you the ability to generate an entire page layout.
Image editing: an AI-powered solution that will allow you to modify individual parts of an image, adjust the size, and even generatively fill empty spaces.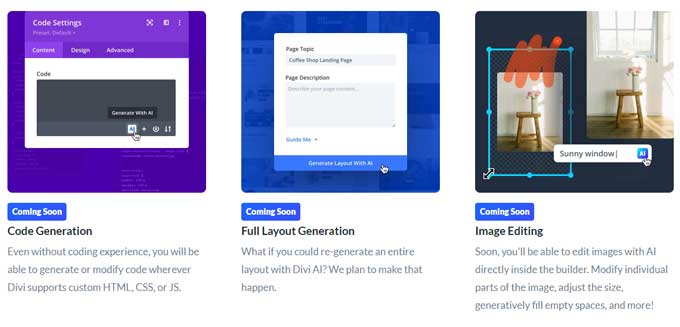 Conclusion
In conclusion, Divi AI is an innovative tool created to help you with website content creation.
It simplifies and automates the process of generating text and images for a website using artificial intelligence.
Are you using Divi AI for your website? And if so what features do you like about it? Share your thoughts in the comments below.