Want to know how much the Divi theme costs? Check out this post where I break down the pricing for both the yearly access and lifetime access pricing plans for Divi.
Are you interested in getting the best deal on Divi? Look no further! Here, I provide all of the information you need to know about Divi's pricing and discounts. Divi allows individuals to design WordPress sites with ease with the Divi Builder plugin you can create beautiful web pages without writing any code.
Divi is one of the most popular WordPress themes on the market. It is created by Elegant Themes and comes with two pricing plans, and I will break down each of them in this post.
Table of contents
Divi pricing plans comparison
An Elegant Themes membership offers two subscription plans, both of which are great options for individuals and businesses looking to improve their WordPress website design.
The two plans available are the Yearly and the Lifetime access plan.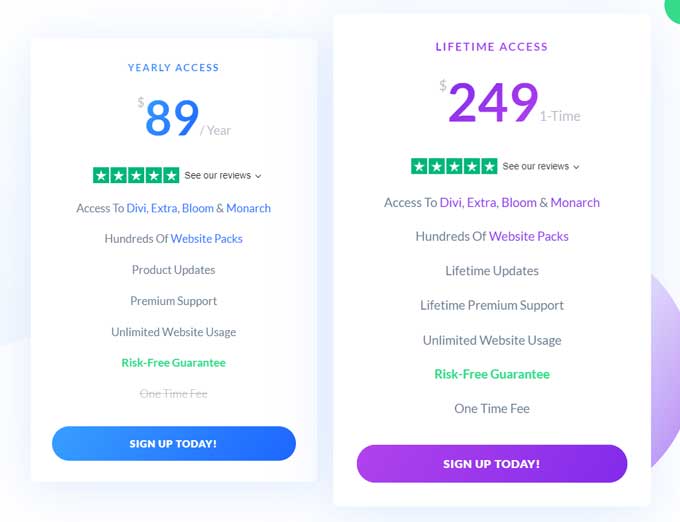 What is the difference between the two plans?
With the yearly subscription, you will get product updates and support for one year. This plan costs $89 a year and you can use it on unlimited websites.
The lifetime access plan is a one-time fee of $249 and you will get access to all the Divi products and support for unlimited website usage.
What happens after a year?
If you are on the yearly subscription and you decide to not extend it then you can still use the Divi theme and plugins. However, you will not have access to new updates and support.
What is included in the plans
Divi is a powerful WordPress theme and it comes with several themes and plugins, including the original Divi theme, Divi Extra theme, Divi Bloom email opt-in plugin, and Divi Monarch social sharing plugin.
With both plans you will have access to the following products:
Divi Theme
Divi Extra
Bloom plugin
Monarch plugin
Divi Theme
With the Divi theme, users can quickly build visually stunning web pages with customizable layouts and drag-and-drop modules.
Divi Extra
Extra Magazine Theme is an amazing WordPress theme that allows you to create stylish blog posts and customize category pages with unique post feed elements. With the Divi Builder, you can easily create stunning articles for your website in minutes.
Bloom plugin
Bloom is a great tool for online marketers looking to create and grow their email lists. With Bloom, creating opt-in pop-ups, fly-ins, and in-line forms has never been easier. What's more, Bloom integrates with many of the top email marketing utilities so you can easily start building your subscriber base.
Monarch plugin
Monarch is an easy-to-use social media plugin that helps website owners increase their followers and promote sharing. By tapping into the enormous marketing potential of popular social networks, Monarch makes it simple to get more eyes on your content and draw in a wider audience.
Try Divi for 30-days for free
Elegant Themes offers a 30-day money-back guarantee to start using the Divi theme without any commitment. With no cost or obligation, you'll get complete access to all the products and tools.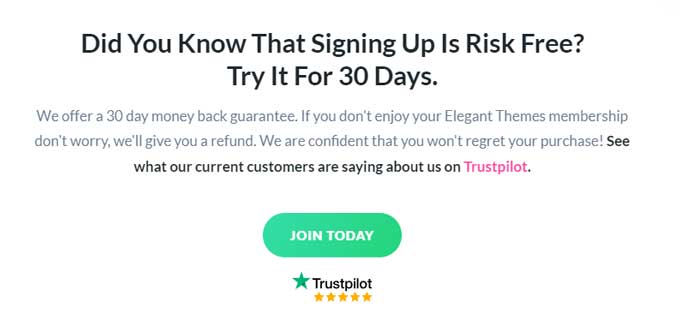 Is there a free Divi Theme version?
No, Elegant Themes does not offer a free Divi Theme version or a Divi Theme lite version.
Divi discount codes
Occasionally Elegant Themes offer sales and discounts for their products.
You can find all of the Elegant themes discounts and coupons that are currently available here.
I will constantly update this list with the latest discounts so make sure to check in from time to time.
Pricing of Divi Cloud and Divi Teams
Divi Cloud and Divi Teams are other products from Elegant Themes but these are not included in the plans.
Divi Cloud
Divi Cloud is like a digital storage locker that you can use to save, store, and access your Divi layouts from any device at any time. It provides a secure platform for you to create and share layouts.
Monthly price: $8
Yearly price: $6
Divi Teams
Divi Teams enables team members to easily collaborate and share resources across the Divi platform. With Divi Teams, you can invite team members or clients to join your team, and grant them access to their own personalized dashboard with tailored permissions so that they can only do what you allow them to do.
This allows web design teams to assign tasks and manage projects more efficiently while providing their clients with a direct line of support.
Monthly price: $1.50 – per member
Conclusion
If you're not sure whether you will be taking advantage of the Divi theme for a long period of time, or are on a budget, then I recommend the $89 yearly plan. This plan gives you access to all updates and customer support throughout the year.
But if you know that you will be using Divi for an extended period, then the $ 249 lifetime access plan could be the more cost-effective option. It's just one payment, and it gives you lifetime updates and support. Plus, if at any point during your annual subscription, you decide that this is the best option for you, then you have the opportunity to upgrade to lifetime.