Looking for the best Divi plugins? Look no further! These 21 plugins will help you take your website to the next level.
Are you ready to make the most of Divi web design in 2023? Keeping current on the best available plugins is essential for building stunning, efficient websites. To assist with that process, we've pulled together this comprehensive collection of Divi plugins – updated just for 2023!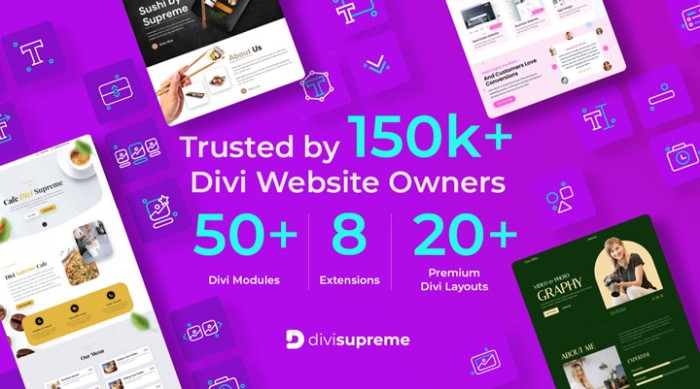 Divi Supreme Pro is one of the most popular plugins for Divi web designers, and for good reason. This powerful plugin boasts over 50 unique features, modules, and extensions designed to help you create stunning Divi websites with ease. With its intuitive design system, flexible page builder modules, custom widgets, Google fonts integration, and more.
Over 50 Divi Supreme Modules
With Divi Supreme, you can take your web design skills to the next level. This powerful plugin offers over 50+ premium modules and extensions that will revolutionize how efficient – and effective! – you are when it comes to create a stunning website.
8 Divi Supreme Extensions
Divi Supreme Extensions offer a wealth of features and benefits to Divi web designers. With this comprehensive plugin, you can create stunning websites with ease thanks to its 8 powerful extensions.
Check out our review of Divi Supreme.
Key Features
50+ Divi modules
8 Divi extensions
Popup Builder
Scheduled Element
Easy Theme Builder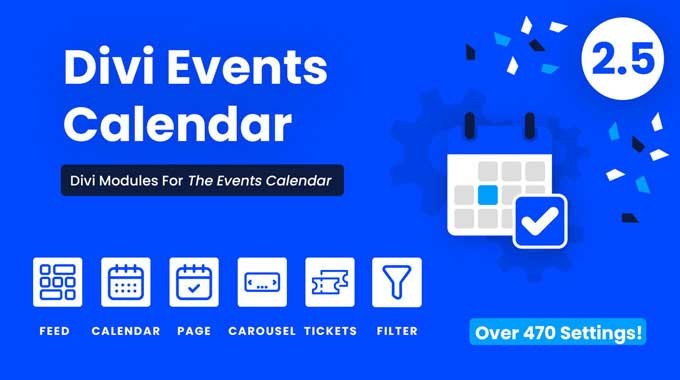 With Divi Events Calendar, web designers can easily create stunning events calendars for their websites. This feature-packed plugin makes it a breeze for users to create and customize beautiful calendars with its intuitive drag-and-drop tools. Plus, adding event registration forms, custom HTML content, images and videos have never been easier – making displaying events more efficient than ever!
Key Features
Multiple views for displaying events
Customizable design options
Event registrations forms
Ability to add custom HTML content
Drag-and-drop tools for easy customization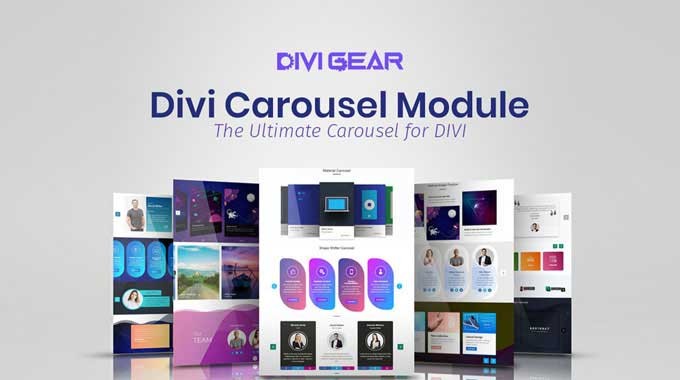 Creating stunning and interactive Divi carousels with ease is now possible with the Divi Carousel Module. This powerful Divi plugin provides web designers with a simple and intuitive way to create visually captivating carousels that seamlessly integrate into their websites.
The Divi Carousel module includes a range of features that make designing and customizing carousels quick and easy. This includes adjustable speed controls, navigation arrows, scrolling indicators, auto-play modes, and much more.
Built-in features allow you to control every aspect of the slider, while pre-crafted Divi testimonial carousel layouts come with a variety of design variations – giving website owners like yourself the perfect platform for creating unique, personalized experiences.
Key Features
Adjustable speed controls
Navigation arrows & scrolling indicators
Auto-play mode for continuous scrolling carousels
Ability to add images, text, and HTML content in carousels
Multiple carousel designs for customizing the look and feel of your carousels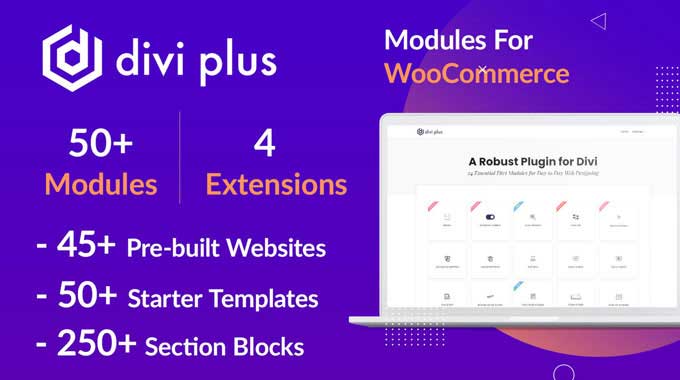 If you're looking for the ultimate way to unlock the potential of your website and save time while building something beautiful, look no further than Divi Plus! This revolutionary Divi plugin comes packed with amazing modules and advanced drag-and-drop tools that allow users to quickly craft their dream web elements without needing to write any code. With its customizable settings and wide range of possibilities, Divi Plus makes it easy for developers and casuals alike to create stunning websites in no time at all.
So if you want to tap into the powerful potential of Divi plugins, don't hesitate – unleash the power of Divi Plus!
Key Features
45+ Prebuilt websites
50+ Starter templates
250+ Section blocks
Visibility Manager Extension
Particles Background Extension
Divi Library Shortcode Extension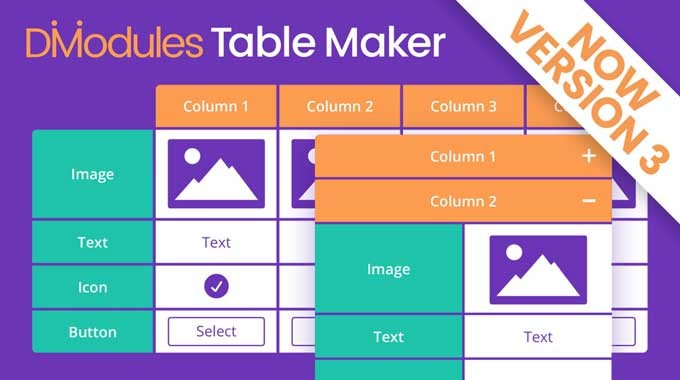 The Divi Table Maker plugin makes it super easy to create tables with stunning visuals in a snap. With its intuitive drag-and-drop interface, you can easily customize your table by adding text and images – plus get the added luxury of features like responsive design, sorting options, search filters, and custom CSS styling!
Key Features
Simple drag-and-drop interface for easy table creation
Responsive design for better viewing on all devices
Utilize multiple headers and footers for a more comprehensive look.
Utilizing column and row spanning, you can create complex data tables that combine the best of both worlds for a visually appealing experience.
Utilizing sticky headers makes scrolling on websites effortless and efficient.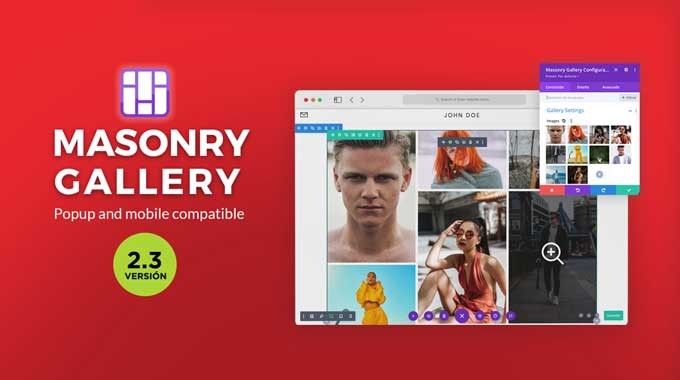 Divi Masonry Gallery is an innovative Divi plugin that will take any website to the next level. Showcase your content in stunning, customizable galleries with just a few clicks! With this easy-to-use drag-and-drop interface, you can adjust size and spacing as well as apply hover effects. Plus, don't forget about sorting options for superior organization on top of lightbox viewing – all at your fingertips! Step up your user experience today with Divi Masonry Gallery.
Key Features
Simple drag-and-drop interface for easy gallery creation
Multiple customizable settings
Adjustable size and spacing
Hover effects
Lightbox View
Sorting options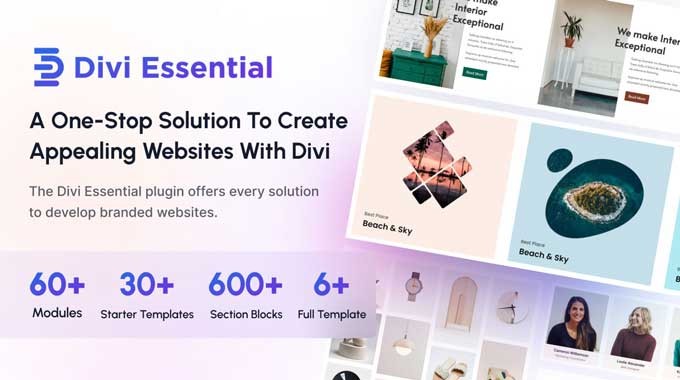 If you're looking for the easiest way to create beautiful, custom websites fast and easily, look no further than Divi Essential.
This powerful plugin is packed with 60 Divi modules, 30+ starter templates, and 600+ sections to give users full control over their website's design – from dynamic drag-and-drop tools that make layout creation a breeze, to advanced customization settings letting them tailor it perfectly to suit any project.
With the incredible capabilities of Divi Essential, you can explore endless possibilities!
Key Features
60 Divi modules
30+ starter templates
600+ section blocks
6+ full templates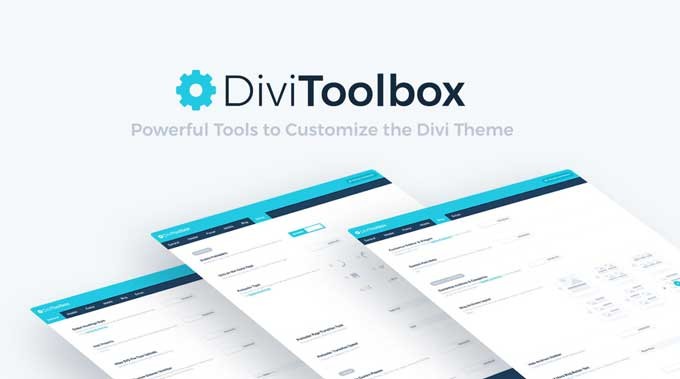 Unlock the arsenal of possibilities that come with Divi Toolbox, and kickstart your journey to building incredible websites. With hundreds of features at your fingertips – it's time to tap into all this power today!
Divi Toolbox gives you complete control over your website's design and content. From customizing the look of your site to adding powerful new features, everything is possible with Divi Toolbox. With a range of intuitive drag-and-drop tools and adjustable settings, it takes minimal effort to create modern websites that stand out from the crowd.
Key Features
Easy site-wide changes!
New mobile menu
Fancy 3D hover tilt
Header and navigation
Footer & widgets
Particles ground effect
New blog layouts
Custom popups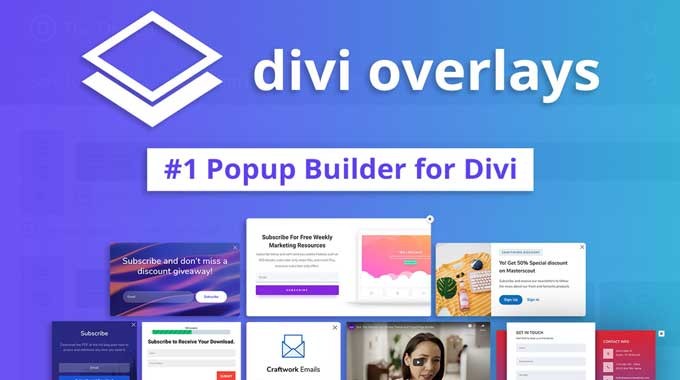 With Divi Overlays, website owners can use the incredible power and flexibility of the Divi Builder to create amazing popups, modals, and other interactive features on their sites. Never before has it been so easy to build these features right into your site in a matter of minutes! And you don't need any coding skills either; everything is easily created within the Divi high-powered plugin. Best of all – Divi overlays can be triggered with a single click or at timed delays to give your readers and viewers an extra special experience while they explore your content. It's one of the most useful Divi plugins available today!
Key Features
Simple drag-and-drop interface for easy overlay creation
Multiple customizable settings
Content options such as text, images, video, and HTML
Advanced animation effects for maximum impact
Fullscreen or inline mode
Support for multiple triggers and events
Support for multiple-page targeting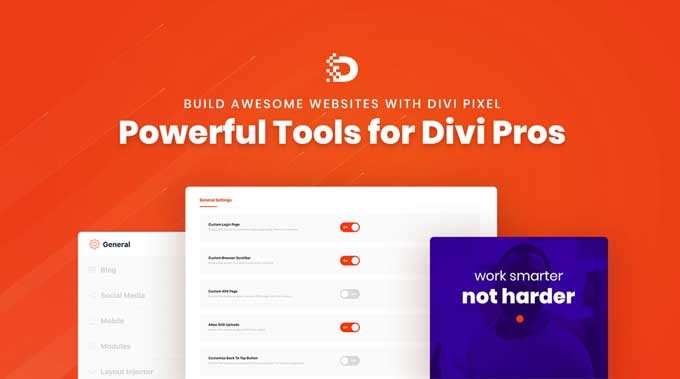 If you're looking for a way to take your Divi website to the next level, Divi Pixel is definitely worth checking out. It's a powerful plugin that allows users to customize their pages and posts with a number of Divi modules, including header and footer adjustments, global color schemes, custom fonts, and much more. Plus, it's incredibly easy to use which makes it perfect for anyone who wants to quickly and efficiently customize their site without having to learn coding skills.
With Divi pixel, you don't have to be an expert coder in order to take advantage of all the amazing features offered.
Key Features
200+ custom options
40+ powerful Divi modules
Divi mobile menu customizer
Popups
Prebuilt website packages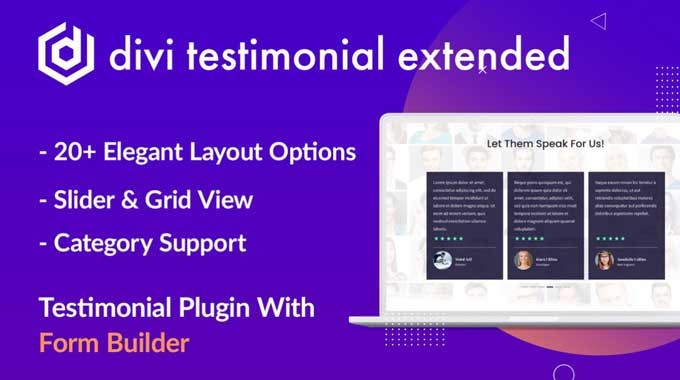 The Divi Testimonial Extended plugin is a powerful tool for creating truly unique, impressive, and impactful testimonials on your websites. From slider-style features that allow you to display multiple stories of success at once, to customizable layout options for creating a look and feel that matches your brand and aesthetic – Divi plugins give you the power to capture your audiences' attention more effectively than ever before.
Whether you're an experienced designer or web developer, or just getting started with online marketing – This Divi plugin offers an easy way to upgrade your website with insightful customer reviews.
Key Features
6 Testimonial layouts
4 Testimonial slider animation
Testimonial grid
Multiple column control for each layout
Custom Post Type
Highly customizable module
Inbuilt testimonial form module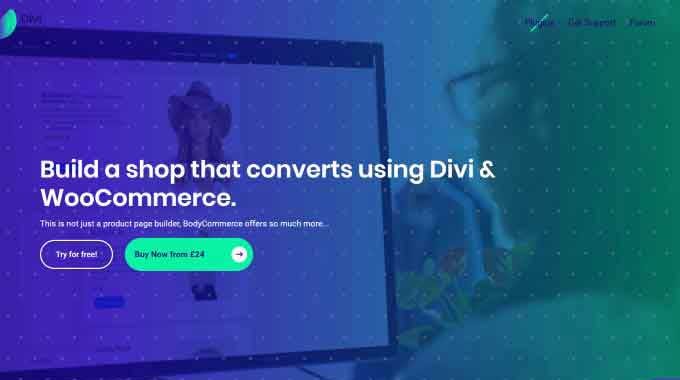 With Divi BodyCommerce, you can create stunning eCommerce websites and easily customize them to look exactly how you want. This powerful plugin combines ease of use with its drag-and-drop interface along with added features like a checkout funnel, product page builder, custom thank you page, and much more.
Divi BodyCommerce unlocks an incredible level of control over WooCommerce products and page designs. Imagine the ability to completely customize everything from login pages, badges, thank you pages, search functions, and more – even down every single email template! Plus this powerful plugin lets you generate unique layouts for each category as well.
Unlock the power of Divi Bodycommerce and find that no job is too difficult or simple when it comes to managing your online store.
Key Features
Checkout funnel
Product page builder
Thank you, page builder
Form field customizer
Ajax filters
Custom pagination
If you're looking to get the most out of your Divi website, Divi plugins like Divi Booster could be just what you need. With hundreds of customizations available at the click of a button—from adjusting slider heights or stopping header shrinking to assigning distinct designs to individual pages—this Divi plugin will supercharge your website, giving it a unique flair that feels completely tailored to you.
Divi plugins get a bad reputation for slowing down websites, but that's only true if they are poorly written. With Divi Booster, you don't have to worry about this problem! This plugin pre-compiles and minifies the CSS and JavaScript code it generates when you save the configuration, instead of when your users visit the site. This fast-loading technology means that Divi plugins load just as fast– or even faster!– then the equivalent code is placed in a child theme. So choose Divi booster for boosted speed and peak performance on your website!
Check out our review of Divi Booster.
Key Features
100s of configuration options
Easy to use
Divi Booster is fast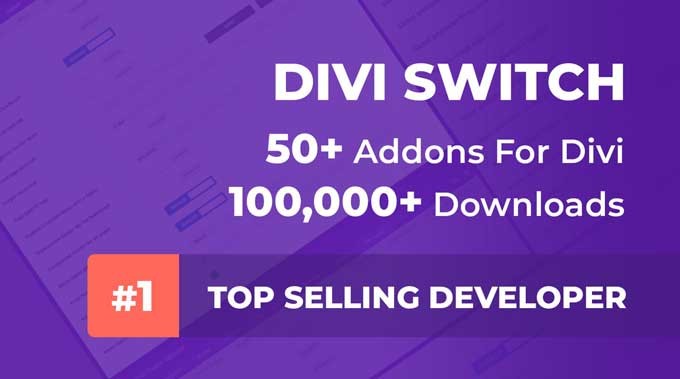 Divi switch is a Divi plugin that's designed to make it easy for people of all skill levels to customize their website's look and feel with ease. Whether you're just starting out and need codeless styling or an experienced designer looking for a way to speed up development, This Divi plugin offers toggle options that let you transform any website quickly and easily.
This plugin also makes it easy to test out different designs and experiment with new ideas, giving you the freedom to create a website that's truly unique. With this plugin's intuitive design options, you can explore a variety of looks and layouts without having to code anything from scratch.
Key Features
Remove Main Header Underline
Make Phone Number Click To Call
Center Align Top Header Items
Different Logo on Scroll
Page-Specific Logo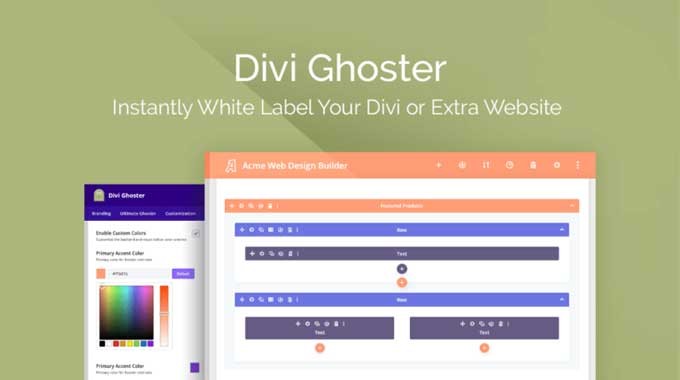 If you want to white-label your Divi website then Divi Ghoster plugin is what you want. With this plugin, you can remove any trace of the Divi Builder from your website and replace it with your own brand name and logo.
The Divi Ghoster plugin has a wide range of customization options, allowing you to choose what information is visible and hidden from the WordPress dashboard and from the front end of your website. With this plugin, you can also customize menu items and tailor buttons for a truly unique experience.
Key Features
Option to hide/unhide Divi theme
Option to rename "Divi" with your company name
Customize the WordPress dashboard
Change menu items and button text
Create unique branding across platforms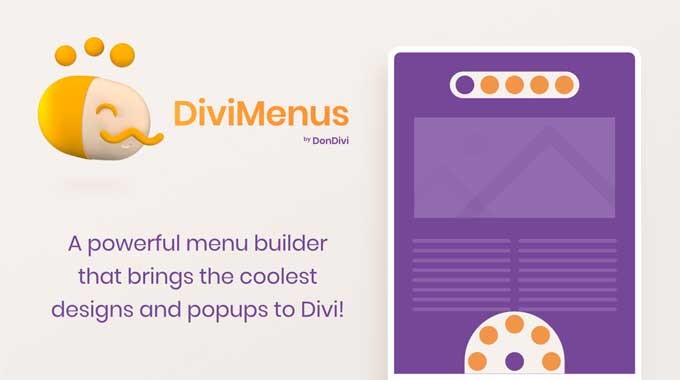 DiviMenus is the #1 menu builder for Divi websites. With DiviMenus, you can let your website's design shine! This powerful plugin makes it easy to create custom menus that perfectly capture the look and feel of your site. Get creative with a wide range of customization options and pick from tons of pre-made menu designs or customize one yourself – whatever look you want is within reach. Take control over how menus appear on your websites today with DiviMenus!
Key Features
Tons of pre-made designs
Drag and drop builder for custom menus
Wide range of customization options
Mobile and tablet-friendly menus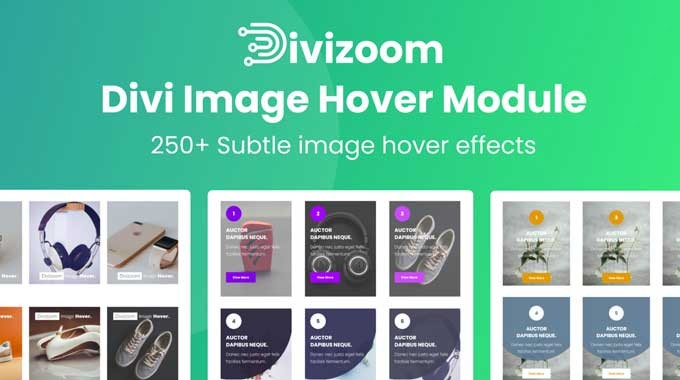 With Divi Image Hover you can add stunning hover image effects that are unique and engaging to your website. From rotating images for extra visual flair to fading in/out text that makes your content will stand out.
With a range of animation options – including parallax scrolling and 3D transformations – plus adjustable speeds that offer total control over user interactions, Divi image hover will have your site looking amazing in no time.
Key Features
Create beautiful image hover effects
Different types of animation effects
Fully customizable speed and timing
Support for different image formats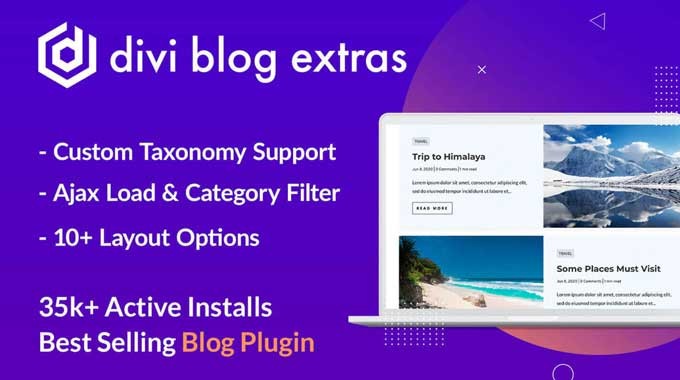 With the Divi Blog Extras plugin, you can create an amazing and unique blog experience. Give your posts a distinctive look by adding highlight colors or custom post navigation layouts – not to mention access to tons of other features! With vast customization options available, this is the perfect way for anyone wanting their blog to perfectly reflect their site's look and feel.
Transform your Divi blog layouts into something extraordinary with Divi Blog Extras! The highly customizable, pre-made layouts allow you to make stunning modifications in an instant. Take complete control – the sky's the limit when it comes to creating a unique layout beyond what was thought possible with the Divi and Extra Theme.
Key Features
Post highlight colors and backgrounds
Customizable post-navigation layouts
Hide/show different elements of the blog module
Option to add custom text or HTML before/after posts
Support for multiple blog modules on the same page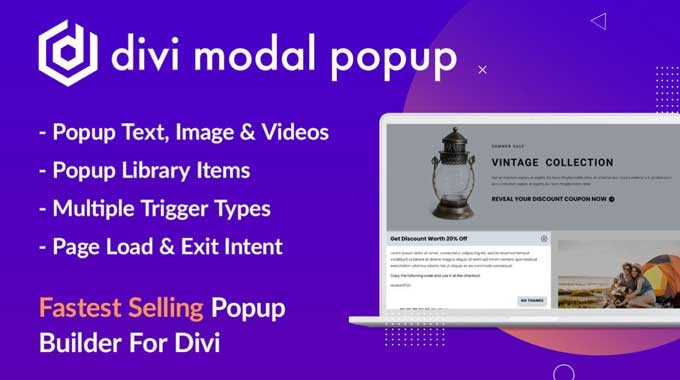 Divi Modal Popup is a great Divi plugin that allows you Unleash the power of modal popups with Divi Modal Popup! This incredible plugin provides an easy-to-use editor so you can quickly create beautiful and interactive window displays for your website. Plus, tons of customizations let you craft a signature style for each popup – all without any coding required!
With Divi Modal Popup, you can easily create unique pop-ups that can be triggered based on user behavior. You can also show different pop-ups depending on which page the user is viewing – an incredibly powerful feature for anyone looking to increase conversions.
Key Features
Wide range of customization options
Trigger pop-ups based on user behavior
8 different placements options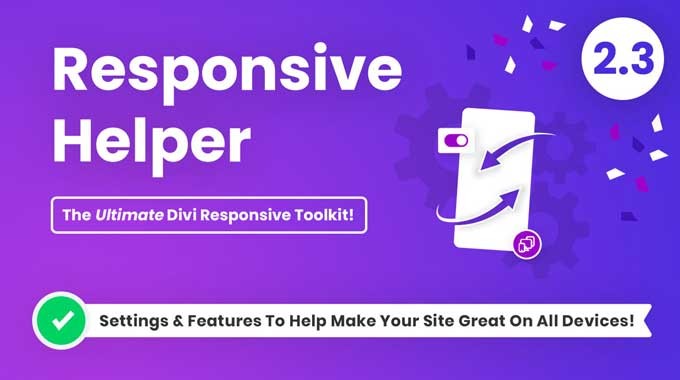 Divi Responsive Helper is the perfect Divi plugin for those looking to make their websites responsive with ease. It offers an intuitive, drag-and-drop interface that allows you to quickly build out fully responsive layouts without any coding. This plugin lets you adjust the breakpoints and sizes of elements on your page to make it look great on any device.
With Divi Responsive Helper, customizing the look of your site is a breeze! Choose from tons of options to get precisely the font size and margins you need; now that's something worth celebrating.
Key Features
More than 48 features
Set font sizes globally
Customizable breakpoints and sizes
Fine-tune font size, margins, padding, and more
Support for different device types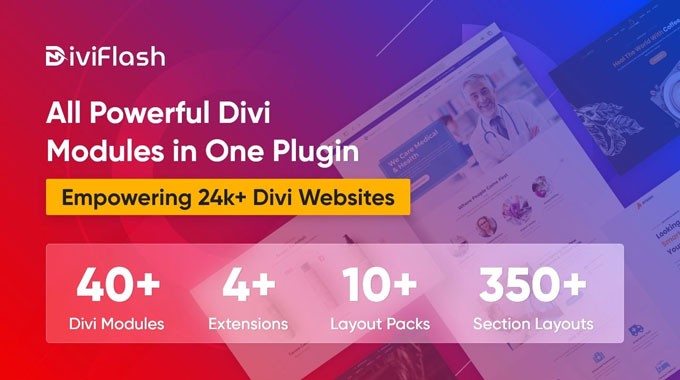 With Divi Flash, web developers and designers can effortlessly create gorgeous websites with interactive features. This plugin offers an intuitive drag-and-drop user interface that provides the opportunity to customize page layouts and elements without needing any coding knowledge! Practically limitless options are available such as intricate animation effects, background images, or videos – making each website creation unique in its own right.
Divi Flash comes with tons of features like 40+ Divi modules, 4 Divi extensions, 10 layout packs, and 350+ sections.
Key Features
40+ Divi modules
4+ Divi extensions
10+ layout packs
350+ sections
Faq
What is a Divi plugin?
Divi plugins are powerful tools that make it easy to customize and extend the functionality of your website. With just a few clicks, users can add, for example, Divi contact forms, and popups, or create stunning image hover effects for their website.

With so many Divi plugins available on the market, you are sure to find the perfect ones for your website.
What is a Divi module?
Divi modules are one of the most powerful features of the Divi builder. The intuitive drag-and-drop interface makes it easy for web designers to create stunning page layouts in no time.

Divi's 60+ modules provide everything from image and text to contact form capabilities – creating your website is a breeze. To see what Divi can do for you, take a look at the full list available on Elegant Themes!
How do I install a Divi plugin?
Installing a Divi plugin is a quick and straightforward process. To get started, you need to download the plugin from its official website or find it on the WordPress Plugin Directory or on Elegant Themes Marketplace.

After that, head over to your WordPress dashboard and navigate to Plugins > Add New > Upload Plugin – this is where you upload the plugin zip file, followed by clicking "Activate" so that you can use the plugin right away. It's as easy as that!
Do I need coding skills to use Divi plugins?
No, you don't necessarily need any coding skills in order to use Divi plugins. Most of these plugins come with intuitive user interfaces, making it easy for anyone to customize their website without having to write a single line of code. However, some advanced features may require more technical knowledge.
Can I use multiple Divi plugins?
Yes, you can install and use multiple Divi plugins on your website.

However, it's important to ensure that these plugins are compatible with each other, so that conflicts and errors are avoided. It's also good practice to check for regular updates, as this will ensure your plugins remain running at optimal performance without any disruptions.

By taking these extra steps, you can help ensure that your website remains fast and efficient for both you and your visitors.
Is there a limit on how many Divi plugins I can use?
No, there is no limit on the number of Divi plugins you can install or use on your website.

However, it is important to keep in mind that for optimal performance, it is best to limit yourself to the plugins that are actually required. Since each plugin will affect the overall loading time of your page, using too many could put a significant strain on both underlying hardware and the user experience. Therefore, take care when deciding which plugins you should include on your site – go only with what you need and avoid excesses wherever possible.
Do Divi plugins work with other WordPress themes?
No, Divi plugins are exclusively intended for use with the Divi theme. While some plugins may be compatible with other WordPress themes, it is always best to check with the plugin provider before choosing a plugin for use with another theme.
Do I need to pay for Divi plugins?
In most cases, yes – you will have to purchase Divi plugins in order to use them. However, many plugins offer free versions with limited features, so you can try them out before making a purchase. Additionally, some developers may also offer discounts or promotions for their products.
Do Divi plugins require any additional maintenance?
Yes – it is important to keep your plugins up-to-date in order to ensure that they are performing optimally. It is also recommended to back up your website regularly, as some plugins may cause conflicts or errors if not properly updated. Additionally, depending on the plugin, there may be additional maintenance tasks such as managing user settings or adjusting code snippets.
Are Divi plugins secure?
Yes – all official Divi plugins are thoroughly tested and verified as secure by the makers of Divi. However, it is always best practice to only download plugins from trusted sources and to keep your website updated with the latest security patches in order to ensure optimal safety. Additionally, it is also important to back up your website regularly in case something goes wrong.
Do Divi plugins slow down my website?
It depends on the plugin – some plugins may have a greater impact on your website's performance than others. It is therefore important to choose carefully when selecting Divi plugins and to only install the ones that are necessary for your website. Additionally, it is also best practice to regularly check and update any installed plugins to ensure optimal performance.
Conclusion
Divi plugins are a great way to add extra functionality to your Divi website. In this post, we've rounded up the best Divi plugins for 2023 so that you can take your website to the next level. We've also given you an overview of how to install and use Divi plugins, as well as answer any commonly asked questions about them. With these tips in mind, you are now ready to explore the world of Divi plugins and find the perfect one for your website!
You can check out if there are any Divi plugin discount codes available on this page. I will keep that page up to date with all the discounts and sales on Divi products.
Divi plugins are an excellent way to give your website a powerful boost without the need for a professional developer. With the help of these plugins, you can maximize your website's potential, from providing extra functionality to enhancing the overall user experience.
In this post, we've provided a comprehensive list of the best Divi plugins for 2023, allowing you to select the plugin that best suits your needs. We hope this roundup will help you swiftly increase your website's capabilities while expanding its range of features. Now is the time to explore the countless possibilities available with Divi plugins!
Leave a comment below to let us know which Divi plugins you love the most!