Divi Supreme is a third-party plugin for Divi that adds lots of new modules and features to Divi Builder and the theme in general. It will give you the tools to build amazing websites. In this plugin review, we'll take a look at Divi Supreme and see what it can do to help you decide if it's the right Divi plugin for your Divi website.
With Divi Supreme, you get access to 50+ Divi custom modules that extend what Divi can do and make it easier than ever for you to create amazing Divi websites quickly. On top of that, Divi Supreme is easy to use and makes adding more power and design flexibility to Divi incredibly simple – even for Divi newcomers.

Table of Contents
50+ Divi Supreme Modules
Divi Supreme comes with 50 new custom modules to the Divi Builder. Let's look at a few of them.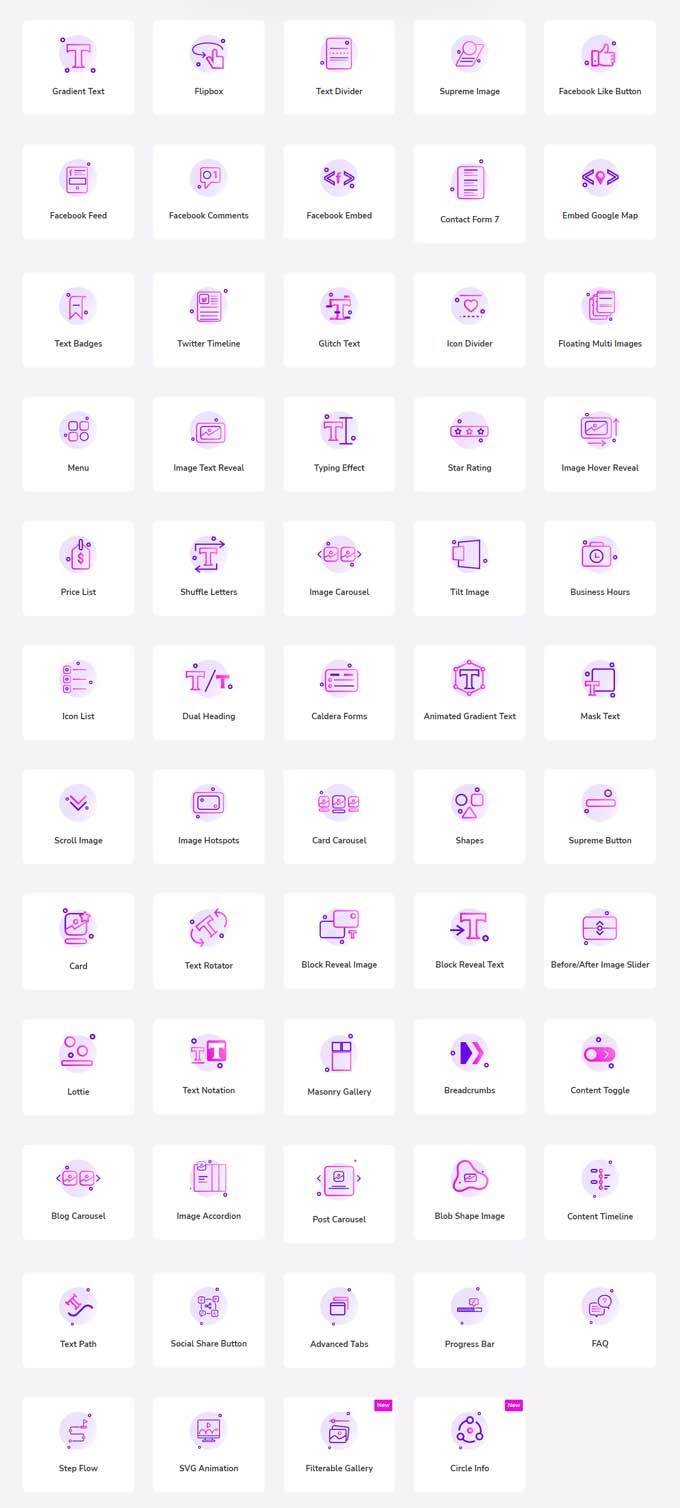 Animated Gradient Text
Animated Gradient Text applies a gradient to text. Choose the styles, create gradients with multiple colors, and adjust the direction and speed of the animation. In this example, I've increased the size of the font, added padding, and added a box shadow.
Before/After Image Slider
The Before and After Image Slider lets you add two images, a before and after, and includes a slider to compare them. It also adds labels and an overlay on hover. You can customize the labels, overlay, and handle slider. This is great for comparing photos, graphics, etc.
Business Hours
The Divi Business Hours module includes sub-modules for each day with fields for the day and time. Adjust the design of each individual or the entire module. Adjust the styling for the day, time, and the separator between them. I've added four days and increased the size, width, and height of the days, the color and size of the hours, and added a dashed line with a custom color.
Supreme Button
Supreme Button provides two different buttons in the same module with individual controls and extras. Adjust the text, alignment, background, lightbox, separator text, and tooltip text. I've adjusted both buttons in this example and added separator text.
Supreme Card
Supreme Card works like a blurb, but with a lot more control over every element. Adjust the image size and location, choose between two different layouts, and adjust the badge, button, text, and a lot more. I've only adjusted the badge colors in this example.
This one uses the Inline layout. I've placed the image on the left and moved the badge to the bottom left.
This one places the image on the right. I've adjusted the image height, added a custom badge position, and adjusted the font size and background color of the badge.
Card Carousel
The Card Carousel works the same as the Supreme Card, but it adds multiple sub-cards that display as a carousel with the slider navigation. You have control over the cards and carousel settings. I've added three cards to this example with different images for each. I've adjusted the badge for one card.
Dual Heading Text
Dual Heading Text includes three different sets of text: Before, Middle, and After. You have control over each one. In this example, I've increased the size of the main text (which controls all of the text together). The Before text is semi-bold. I gave the Middle text a box shadow and made the After text smaller and changed its color. You can make them inline (like in this example) or stack any of the three.
Embedded Google Map
Embedded Google Map is a simple map that doesn't require a Google API. Just enter the address and adjust your zoom.
Embedded Twitter Timeline
Embedded Twitter Timeline displays a Twitter feed. You can embed any feed and you can limit the number of tweets, choose a light or dark theme, show the header, footer, border, and scrollbar, and remove the background color. You can adjust it with the standard design settings. These are the default settings.
Facebook Comments
Facebook Comments can replace your standard WordPress comments. This provides comment sorting, marking as spam, reporting to Facebook, etc. Users need a Facebook account to comment, which can provide increased security. Enter a Facebook App ID, page URL, limited the number of posts, choose between light and dark colors, and the sorting order. You can also adjust it with normal design settings. These are the default settings.
Breadcrumbs module
Divi Breadcrumbs are a great way to make your website navigation easier for users and better for SEO.
It displays a collection of links on a page that represents the "hierarchy" of a particular visitor's journey from page to page.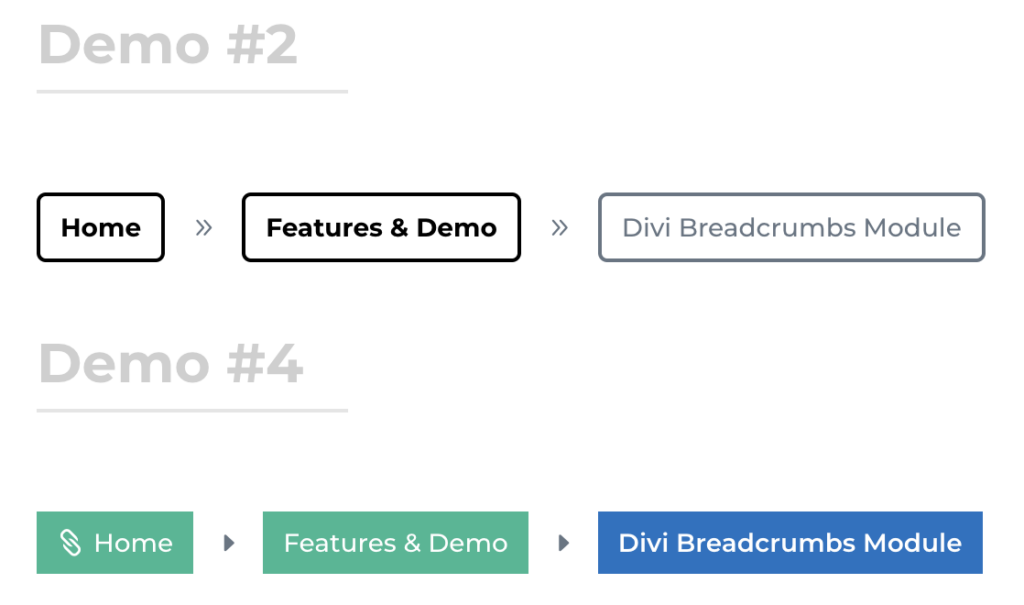 This can be helpful in allowing visitors to quickly find their way around the website without having to search through menus or remember long URLs.
Additionally, these breadcrumbs can be beneficial to search engine optimization because they offer structure and context that help crawlers crawl and index web pages more efficiently.
Icon Divider
Icon Divider adds divider lines around a Divi icon or an image. Adjust the image and icon size, color, alignment with the divider, etc. You can also adjust the divider's color, weight, position with the icon or image, and more. For this example, I've added an icon and adjusted its size and color, and increased the weight of the divider so it stands out.
Image Hotspot
Image Hotpot lets you place icons or text within your images with tooltips that open on hover or click. Adjust the colors, text, icons, animations, etc. This is great for product images to provide information. Add as many as you want and customize them individually.
Timeline layout
The Divi Timeline Module is a powerful tool that enables you to quickly and easily create stylish and engaging timelines using your content.
Its intuitive interface makes it easy for anyone to assemble a timeline in just minutes – no coding necessary! Plus, the module is designed for responsive viewing, giving you the reassurance of knowing that your work will look fantastic on any device.
Floating Multiple Images
Floating Multiple Images lets you add any number of images with settings for each one. The images float over each other. It doesn't provide control over the floating, so you can't change the speed or direction. It does include all of the standard module settings, so you can adjust the size of the module's area, add borders, etc.
Mask Text
Mask Text is one of my favorite modules. Enter the text you want to display and make all of the standard text adjustments and add an image. The text displays as a cutout and reveals the image behind it. All of the standard image controls are here. I'm using the supplied text and changed the size, made it all-caps, selected ultra bold, and added a text shadow.
Shapes
Shapes can display one of 17 shapes in any size and color you want. Choose the shape, set the size, add a border, shadow, etc. These are great for adding interesting background elements.
Tilt Image
Tilt Image lets you place an image that will tilt on hover based on the location of the mouse cursor. Adjust the tilt settings, add a 3D pop-out effect, create an image overlay with media and an icon, and adjust each element with the style settings. I've added an image with glare, 3D, and an overlay with an icon, heading, and body text.
Divi Lottie Module
Spice up your Divi website with attractive, animated visuals using the powerful and convenient Divi Lottie Module! With its library of thousands of premium animations created by an international selection of professional designers, you can quickly find something that complements your site's look + feel while boosting conversions. It only takes a couple of clicks to make it happen.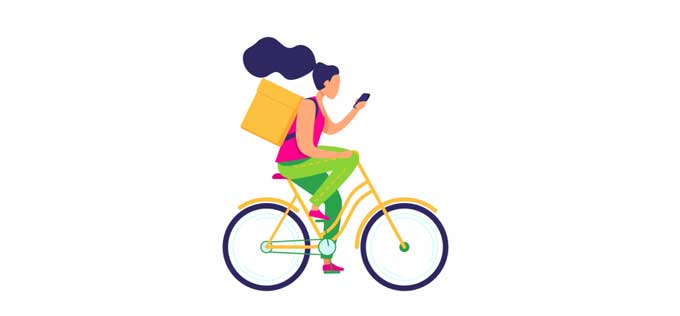 Divi Supreme Masonry Gallery Module
Create an eye-catching portfolio with Divi Supreme's Masonry Gallery Module! Whether you're a web designer, photographer, or something else entirely, this module is perfect for making your work stand out and giving it the attention it deserves. Impressive images don't have to be hard—showcase them in style today!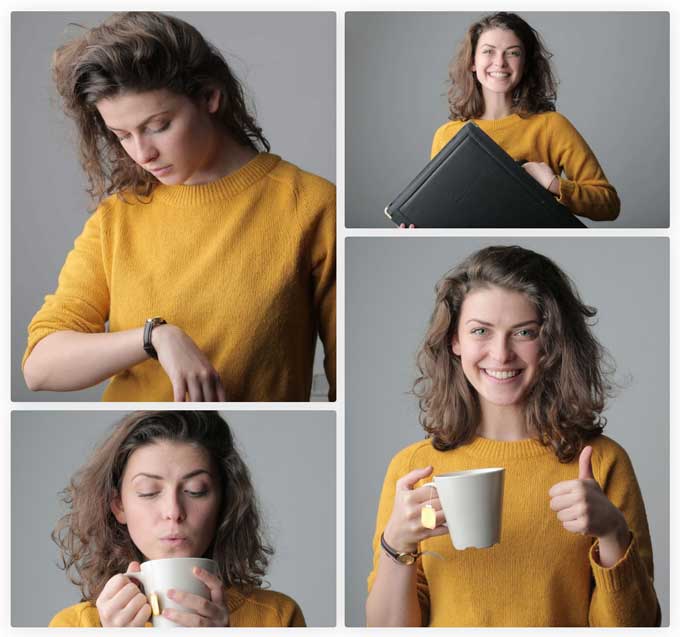 Image Carousel Module
Using the Divi Supreme Image Carousel Module is an easy and effective way to bring a unique touch of beauty and style to any website. Not only does it provide fast and straightforward creation of beautiful image carousels, but it is also packed with powerful features such as hover effects, autoplay, looping, and many others. With this module, users now have the capability to customize the settings in order to create truly spectacular image carousels tailored perfectly to their needs. Whether you want to present your portfolio pieces, product images, or client logos, this module offers a great opportunity for creating slideshow elements with stunning visual impact.

Floating multi images module
Showcase your images in an all-new way with the Floating Multi Images module! Transform any page by adding eye-catching animations that can move up, down, and left or right.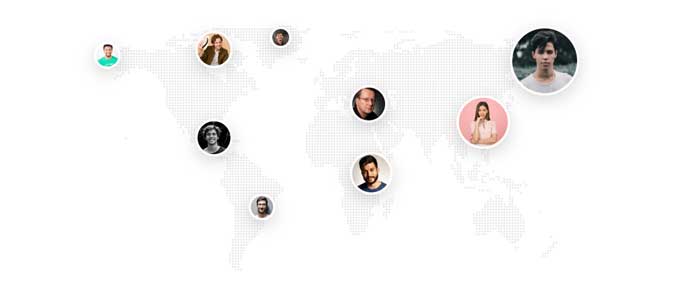 Text Divider Module
Make your headlines stand out with Supreme Text Divider Module! From borders to text in between the dividers, you'll be able to customize each headline and perfectly align it for a stunning look.

Supreme Image Module
With the Supreme Image module, you can now easily and effortlessly experience the fantastic freedom of 3D-manipulated images. Now, it's easier than ever to rotate your image just as you've always imagined – all without a single line of code!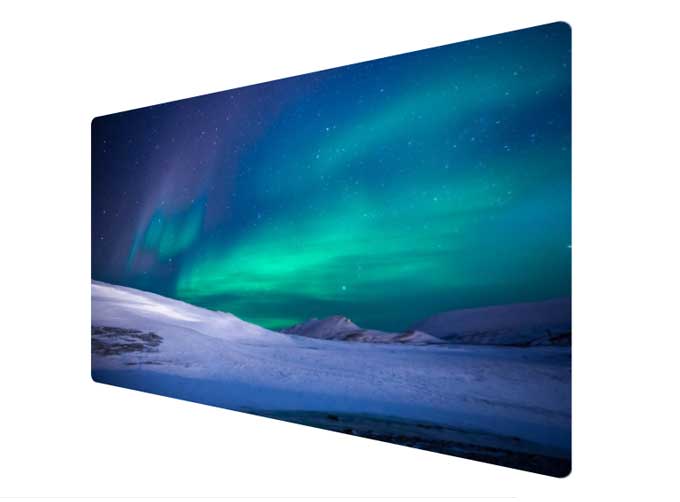 Caldera Forms Module
Get the best of both worlds with Divi Supreme's Caldera Forms module. Easily and quickly select your desired contact form right from a dropdown list and experience a seamless transition between Visual Builder & Caldera Forms settings page – no more toggling back and forth!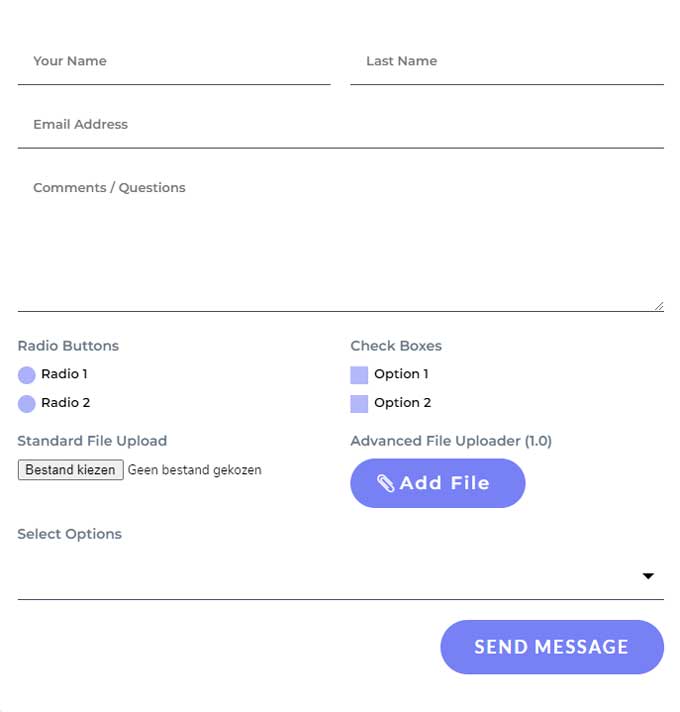 Overview of the 7 extensions included in Divi Supreme
Divi Supreme includes 7 extensions that you can enable in the plugin's settings. Let's look at a few of them.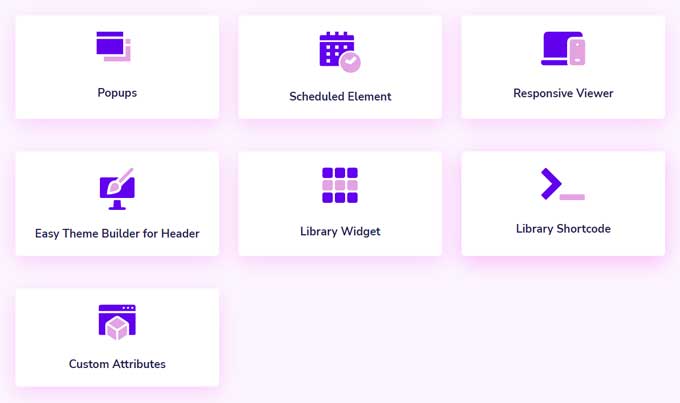 Divi Popup
Divi Popup is a setting that's added to Divi modules in the Advanced tab. Select a popup type, which can be a layout from your Divi Library, iFrame, image, or video, and then choose the layout and add a trigger. The trigger can be a click, page load, scroll, or exit intent. Also choose how it closes, the exit animation, position, width, overlay, and close button styles. Opening on load lets you use it as a cookie consent. You can set the cookie expiration, time delay, and lots more. This is a powerful popup tool.
Scheduled Element
Scheduled Element adds a new option in the Advanced settings of sections, columns, rows, and modules under the Visibility tab. Here, you can have the element to show or hide based on the date that you choose. Select between certain times, and business times, and choose which users it applies to.
Responsive Viewer
Responsive web design has never been easier. With the Breakpoint Presets Preview, you can save time and have full control over your project. Just select a preset option and immediately preview the design in different breakpoint sizes – it's that easy! Plus, with custom breakpoint previews, you can set your own responsive sizes, giving you the ultimate flexibility when it comes to creating mobile Divi sites. Thanks to Breakpoint Presets Preview, all your Divi websites will be optimized for all types of devices ranging from iPhones, iPads, Androids, and all other mobile devices. So take advantage of this great resource and start elevating your responsive designs.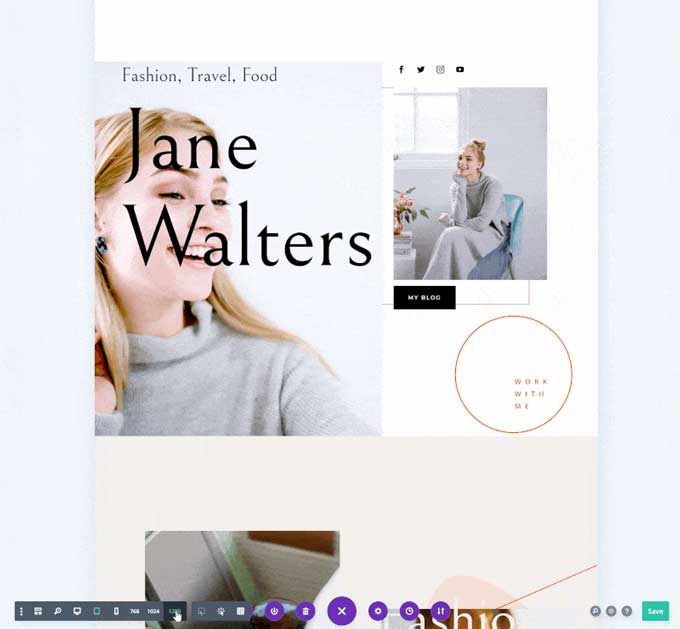 Easy Theme Builder For Header
Easy Theme Builder lets you enable and configure settings for the Divi Theme Builder. It includes settings to fix the header, push the body down, shrink on scroll, and shrink padding, images by a certain percentage, threshold, and the logo.
Fixed header: Make your website experience even better with a fixed header! With just a few clicks, you can use Theme Builder to create an awesome custom-built one that follows visitors wherever they go on your site. Be the master of navigation and let them explore what you have to offer in style.
Shrink On Scroll: Stop cluttering your visitors' screens! Shrink the Theme Builder header with just a few clicks to reduce its size and maximize its viewport height – no coding is necessary. Make scrolling smooth without sacrificing high-performance design today!
Switching Logo On Scroll: When your visitors are scrolling, you can switch to a unique logo in just moments! With custom header logos, you'll have more control over the design of your site and be able to make it truly one-of-a-kind.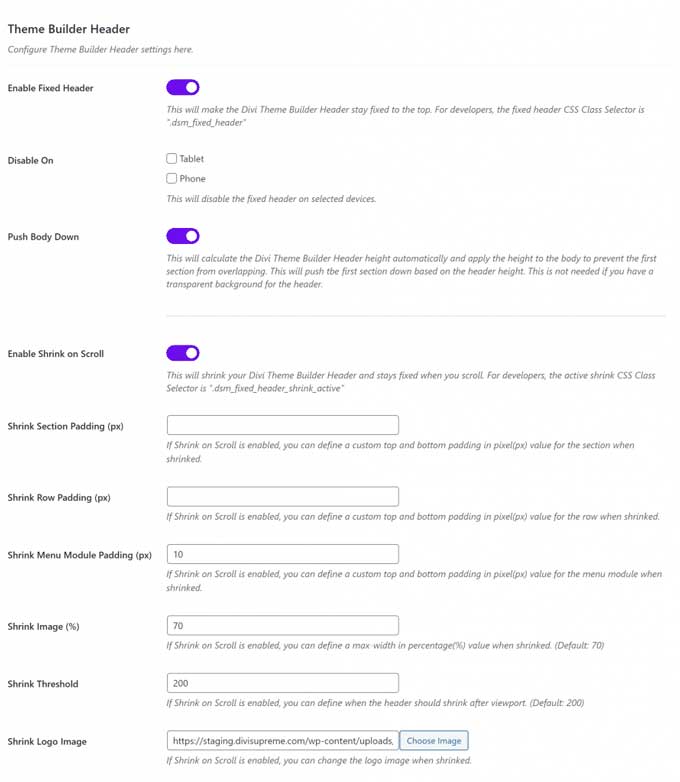 Divi Library Widget
Divi Library Widget adds a widget that will display any layout from your Divi library. This is especially good for small layouts that you've designed for your sidebars.
Read More
Read More adds a new setting to the Advanced tab of text, blurb, blog, and call to action modules. The setting adds Read More and Close links and lets you set the collapsed height, enter the text, adjust the font, add a shadow, and add custom CSS.
Divi Library Shortcodes
Divi Library Shortcodes adds a new column to your Divi library with a shortcode. You can copy and paste this shortcode to display the layout within Divi modules and your PHP code.
General Settings
One of the key features of Divi Supreme is a notable settings page with several tabs, each of which explores different customization options for users to explore. On the Divi Supreme settings page you will find the General Settings tab, Divi Supreme offers different toggles to enable scheduled elements, a popup feature, library widgets, read more content links, library shortcodes, and more.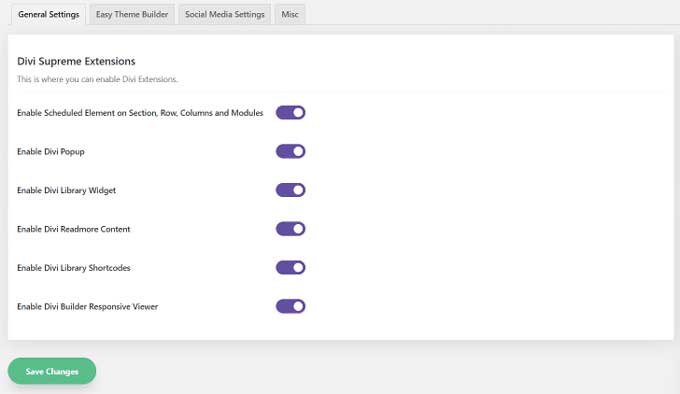 Menu Settings
Along with the Divi Extensions, the settings menu also includes a few other features.
Social Media
Social Media settings include the Facebook API and a box that allows Divi modules to use your WordPress site language.
Misc
Misc lets you remove data on uninstall, allow for JSON file uploads, change the Divi Supreme Pro menu name, and specify an image for the menu icon.
Divi Supreme Pro vs Lite
Divi Supreme Lite is a free version that includes a limited set of features and options. It is primarily intended for users who want to test the plugin before purchasing the Pro version, or for users who do not need all of the advanced features offered by the Pro version.
Divi Supreme Pro includes 50+ modules, more options, and more extensions. Plus, the modules in the pro version have more features than in the free version.
Premium Layouts
You will get access to stunning Divi layouts specially designed with the Divi Supreme plugin. These layouts feature an array of designs and elements that have been carefully crafted to make your website stand out above the rest. Whether you're looking for a modern, sleek look or something more traditional, you'll find plenty of options.
Divi Supreme Price
Divi Supreme has three pricing options:
Personal= $49 for 1 site and 1 year of support and updates.
Professional= $79 for unlimited sites and 1 year of support and updates.
Agency= $219 for unlimited sites, support, and updates (Lifetime).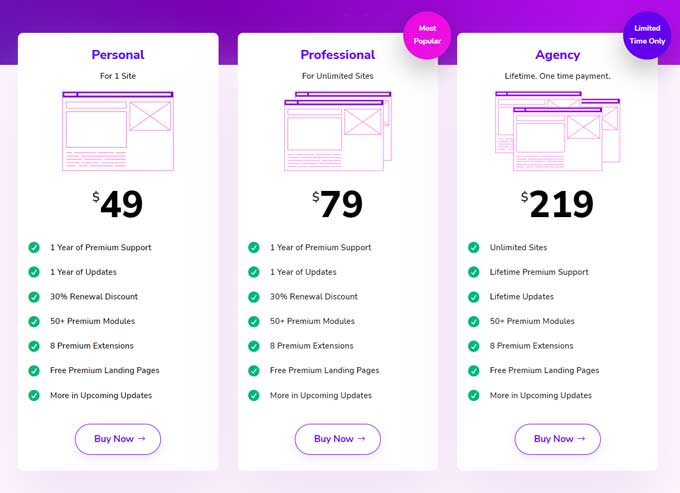 Special 10% Discount Coupon Code
We have a great deal with the Team of Divi Supreme for our readers – get an exclusive 10% discount with coupon code MH10!
With this special offer, you can get a discount for every plan!

Check out my Divi coupon code page for all the latest discounts.
Ending Thoughts
Divi Supreme Pro is an impressive plugin to create stunning interactive content on your Divi websites. It's easy to use and filled with features that add lots of design options that are normally only available by adding code. Divi Supreme makes these features easy to add, plus the fact that most are Divi modules means that you can easily style them to fit your website. Divi Supreme allows you to build amazing websites quickly and easily. If you're interested in adding lots of new features to your Divi website, Divi Supreme is worth a look.
Have you tried Divi Supreme? Let us know what you think about it in the comments.