Discovering your web design niche can be a game-changer for your business, allowing you to stand out from the competition, increase revenue, and build a strong reputation in a specific area.
In this blog post, we will guide you through the process of uncovering your website design niches, from identifying popular industries and types of websites to aligning your niche with your skills and interests and evaluating market demand and competition.
Let's dive in and find your perfect niche!
Key Takeaways
Choosing a web design niche is essential for success and profitability in the industry.
Identify potential niches by exploring popular industries, evaluating market demand and competition, analyzing your skills & interests, and assessing pricing affordability.
Find inspiration from these 10 examples of website design niches for companies.
Develop expertise & credibility through networking, portfolio building & staying current with trends. Promote services using targeted marketing strategies to stay adaptable & open to new opportunities.
The Importance of Choosing a Web Design Niche
When you focus on a specific niche, you have the opportunity to develop deep expertise in that area. This makes you more valuable to potential clients and allows you to charge higher rates.
Niching down your web design business can offer several advantages that can ultimately lead to greater success and growth. Here are some compelling reasons to consider:
Specialization demonstrates expertise: Focusing on a specific niche allows you to become an expert in that area. Clients are more likely to choose a web designer who understands their industry and its unique challenges. You can build a reputation for being knowledgeable and skilled in your chosen niche.
Reduced competition: When you narrow your focus to a niche, you'll face less competition compared to serving a broad range of clients. This can make it easier to stand out and attract clients who are looking for specialized services.
Targeted marketing: Niche marketing enables you to create highly targeted marketing campaigns. You can tailor your messaging to resonate with the specific needs and pain points of your niche audience, increasing the likelihood of attracting the right clients.
Higher pricing potential: Clients are often willing to pay more for specialized expertise. By niching down, you can position yourself as a premium service provider and command higher rates for your services.
Streamlined processes: Specializing in a particular niche allows you to develop efficient workflows and standardized processes. This can lead to faster project turnaround times and better overall client satisfaction.
Portfolio consistency: When you work within a specific niche, your portfolio becomes more consistent in terms of design style and project types. This can make your work more appealing to potential clients in the same niche.
Network opportunities: Niching down can lead to better networking opportunities within your chosen industry. Building relationships with key players in your niche can open doors to new clients and partnerships.
Referral business: Satisfied clients in a niche are more likely to refer you to others within the same industry. Word-of-mouth referrals can be a powerful source of new business.
Improved communication: Specializing in a niche allows you to speak the language of your clients. You understand their terminology and can communicate effectively, which builds trust and rapport.
Personal satisfaction: If you have a genuine interest in a specific industry or type of project, working within that niche can be more personally fulfilling. You're more likely to enjoy your work when it aligns with your passions and interests.
Several factors must be taken into account when deciding on a web design niche, such as the potential earnings, level of interest, and market demand.
Analyzing past projects can be beneficial in selecting a web design niche by recognizing trends in the types of sites completed, determining the most rewarding and profitable projects, as well as providing referrals and networking opportunities for professional web design services.
Steps for Finding Your Web Design Niche
It is important to pick a niche you like and have the skills for. If you choose something that you are passionate about and good at, it will keep you motivated. You can stay current with trends in the industry and keep learning new skills.
To determine which web design niche is most suitable for you, follow these steps to find your web design:
Evaluate your current skills and interests, and identify any knowledge gaps.
Research the market demand and competition for your chosen niche to ensure its viability and potential for growth.
Align your niche with your strengths to position yourself for success in the competitive world of web design.
Evaluating Market Demand and Competition
Before deciding what type of website design to specialize in, it is important to look at market demand and competition. This means finding out who else offers the same services and how much they charge.
Make sure there is enough potential for growth in the area so that you can set your prices and reach your goals. Do research so that you can make an informed decision about which niche will be best for your web design business.
Can This Niche Afford Your Pricing
It is important to know how much people in a certain niche can afford when it comes to website pricing. You need to research the market and figure out if the clients in that area can pay for your services.
As an example, lawyers typically have a higher income and are more likely to be able to afford your services, while dog groomers generally have a lower income and may not be able to afford your services.
This will help you make sure that your business will make money and be successful in the long run. It also helps you focus on providing great services to your customers so that you can keep growing your business.
Are the customers in this niche involved in the decision-making
When I worked with lawyer firms to design their websites, they often wanted to be more involved in the design process and be part of decisions like what font and images to use.
When I shifted my focus to the construction niche, it was much easier because the people just told me that I was the expert and could make all the decisions.
It is something to think about when choosing a niche.
10 Examples of Great Web Design Niche Websites
As you can see in the previous chapter there are many great reasons for starting a web design niche business.
I will give you some examples of businesses that focus on a specific industry for your inspiration.
PlumberSEO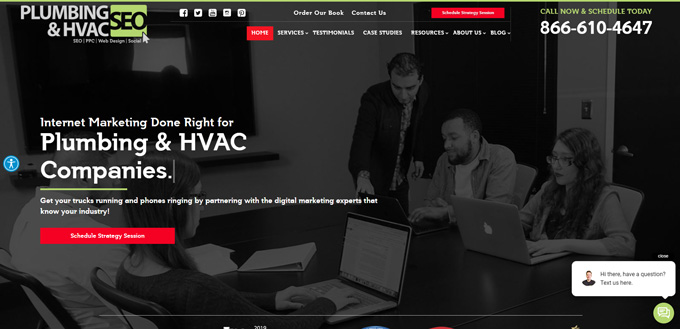 Plumber SEO is a highly skilled company that specializes in offering customized digital marketing and web design services specifically designed for plumbing businesses. Their comprehensive solutions cover all aspects including web design, SEO, PPC, Pay Per Lead, Retargeting, Social Media, Online Directories, and Email Marketing.
Everything on their website is focused on plumber businesses from the services, testimonials, case studies, portfolio, etc.
Imagine you have a plumbing business and come across their website. Why wouldn't you choose to work with them instead of a regular web design agency?
It's only logical to opt for a web design agency that specializes in your industry.
You can also make great advertisement campaigns, for example, with Facebook you can target plumber businesses or plumber businesses with a Facebook page and show them specific ads.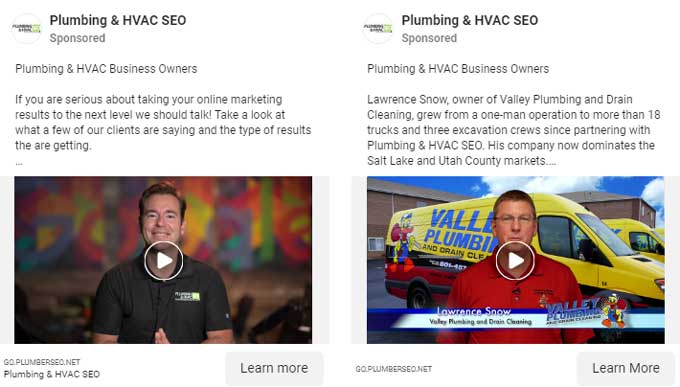 Perfect Patients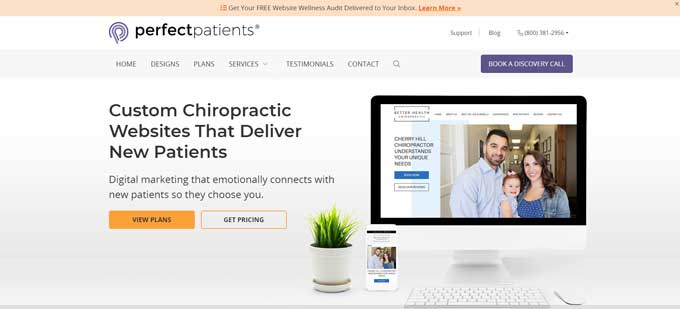 Perfect Patients helps chiropractors build their online presence. They offer services like web design, marketing, and content writing to help chiropractors connect with current and potential patients.
Perfect Patients makes sure that chiropractors are visible online and can attract new patients while keeping the trust of existing ones. With their help, chiropractors can focus on doing what they do best.
Easy Agent Pro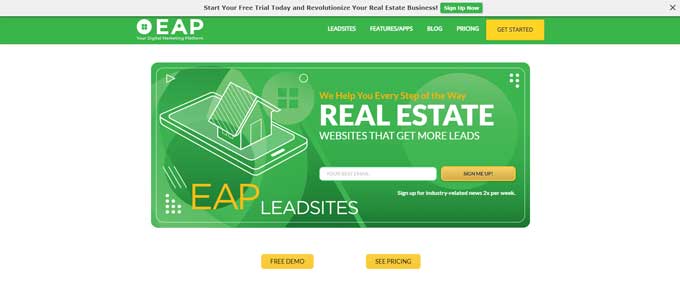 Easy Agent Pro is a digital marketing platform designed specifically for real estate agents. It offers a suite of tools and services to help agents and businesses generate leads, increase online visibility, and grow their business.
Some of the key features of Easy Agent Pro include:
Website design and development: Easy Agent Pro offers a variety of templates and customization options to help agents create professional and visually appealing websites.
IDX integration: Easy Agent Pro integrates with MLS listings to allow agents to display live listings on their websites.
CRM: Easy Agent Pro includes a built-in CRM system to help agents manage their leads and contacts.
Email and SMS marketing: Easy Agent Pro offers email and SMS marketing tools to help agents stay in touch with their leads and customers.
Lead scoring: Easy Agent Pro's Ninja IQ system helps agents score their leads based on their engagement and interest level.
Easy Agent Pro also offers a variety of other features, such as social media marketing tools, SEO services, and lead generation campaigns.
The Modern Firm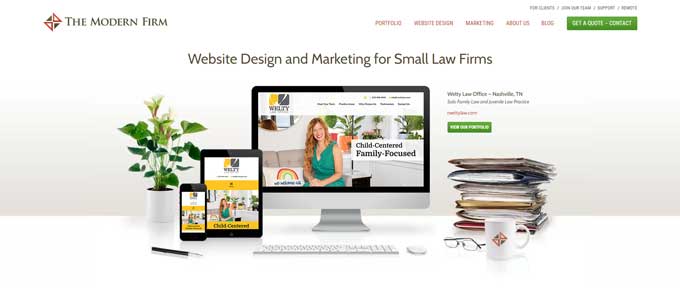 The modern Firm offers a range of services tailored to the needs of their clients in the legal industry, such as website design and development, search engine optimization (SEO), content creation, branding, and online marketing strategies.
Their primary focus is on creating modern and professional websites for law firms that are not only visually appealing but also optimized for search engines and user experience. They understand the unique requirements and regulations that law firms face when it comes to their online presence.
Coalmarch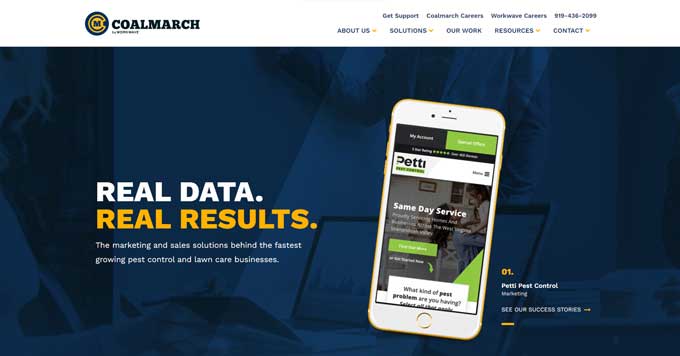 CoalMarch is a digital marketing agency that helps companies in the pest control and lawn care industries grow their businesses. They do this by giving services like website design, SEO, PPC advertising, content creation, social media management, and more.
CoalMarch is good at helping these types of businesses increase their online presence and get customers with effective online marketing strategies. They often work with companies that provide services related to pest control, lawn care, landscaping, and other related industries.
Electric Kiwi

Electric Kiwi is a company that specializes in making websites for musicians and bands. They have experience helping solo artists and bands create an online presence to show their music, connect with their fans, and help them be more successful. Electric Kiwi has the latest technology to make sure their websites look great, are easy to use, and fit with the artist's goals.
My PT Website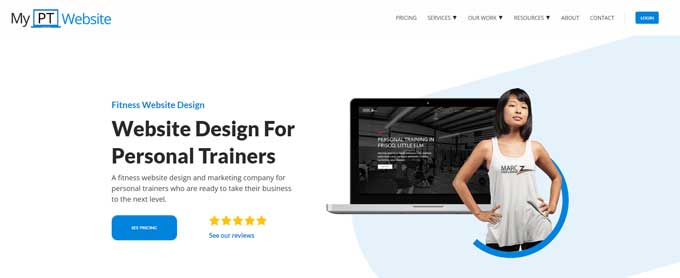 My Personal Trainer Website is a business that focuses on making websites and marketing plans for personal trainers, fitness coaches, and other professionals in the health and fitness industry. They make special websites just for people who work in fitness or wellness.
Vinbound Marketing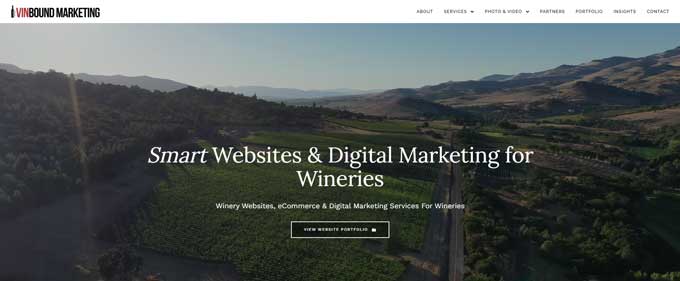 Vinbound Marketing is a digital marketing agency specializing in providing marketing services for wineries, vineyards, and businesses in the wine industry. They focus on helping wineries and related businesses build their online presence, connect with wine enthusiasts, and market their products effectively.
Foreground Web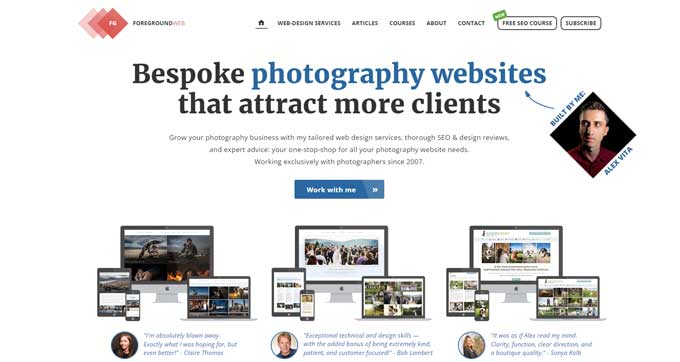 ForegroundWeb is a web design and development agency specializing in creating websites for photographers and other visual artists. Their services are tailored to meet the unique needs of creative professionals who want to showcase their portfolios and work effectively online.
The Dental Boost

The Dental Boost is a company that helps dentists get more patients. They specialize in providing marketing services online. They help dentists create an online presence, bring in new patients, and make their practice bigger with digital strategies.
I hope by now you will see the incredible potential of niche websites.
Identifying Potential Niches: Popular Industries and Types of Websites
Looking into popular industries can help you find the area of web design niches that is right for you. Here are some kinds of websites that could be a specialty for web designers:
Real estate websites
Lawyer websites
Plumber websites
eCommerce websites
Online courses and learning platforms
Blogs and content-driven websites
Each of these industries has its unique requirements and opportunities, allowing you to specialize and cater to their specific needs within a specific industry.
Real Estate Websites
Real estate websites play a crucial role in showcasing properties and generating leads for real estate agents and agencies. As a web designer, you can capitalize on this need for attractive and functional designs by specializing in creating real estate websites that effectively present offerings and attract potential clients.
By offering to create websites specifically tailored for real estate agents, you can set yourself apart from the competition and build a strong client base.
Creating visually pleasing and user-friendly real estate websites can assist agents and agencies in establishing a strong online presence, ultimately leading to more leads and clients for their businesses. This niche offers a great opportunity for web designers to work with a variety of clients, from small local agencies to large international firms.
Lawyer Websites
Lawyer websites require professional and informative designs to attract potential clients and convey a sense of credibility and expertise. Specializing in website design for legal services opens up a unique niche opportunity, that allows you to work with law firms and individual attorneys seeking an effective online presence.
A well-designed lawyer website not only provides information about the attorney's services and expertise but also showcases their success stories and client testimonials. By developing visually appealing and user-friendly websites for legal professionals, you can help them attract more clients and grow their practices, making this niche a profitable choice for web designers.
Plumber Websites
Plumber websites can benefit greatly from localized SEO and visually appealing designs, allowing them to stand out among local competitors and attract potential customers. As a web designer specializing in local businesses, you can offer plumber websites a unique value proposition by focusing on creating designs that cater to their target audience's needs and preferences.
Implementing localized SEO strategies can assist plumber websites in ranking higher, in local search results, thus increasing their visibility to potential customers. Additionally, visually appealing designs can create a positive initial impression and make the website more memorable to potential clients.
This particular niche offers an excellent opportunity for web designers and web developers who are interested in working with local businesses and developing custom, specialized designs for their specific needs.
eCommerce Websites
eCommerce websites are becoming more popular, so people need web designers for good-looking and user-friendly designs. As a web designer, you can meet this demand by focusing on eCommerce design.
This niche is competitive but there is lots of opportunity for skilled designers to make their mark. You can also offer digital marketing services like SEO and social media marketing to help clients attract customers and make sales.
By doing this, you will stand out from the competition and become an expert in eCommerce web design.
Online Courses and Learning Platforms
Online courses and learning platforms have become increasingly popular, with many people seeking accessible and flexible ways to learn new skills or advance their careers. As a web designer with a passion for education, you can tap into this promising niche by focusing on creating user-friendly and engaging designs for these platforms.
Web designers specializing in online courses and learning platforms should prioritize web design projects that focus on:
Creating designs that are intuitive and visually appealing
Optimizing for mobile devices
Incorporating interactive elements, such as quizzes and videos, to enhance the learning experience and make the platform more engaging for users.
Providing specialized web design services for online courses and learning platforms, along with development services, can assist course creators and educators in reaching a wider audience and making a lasting impact on their students' lives.
Blogs and Content-Driven Websites
Blogs and content-driven websites rely heavily on visually appealing and easy-to-navigate designs to attract and retain readers. As a web designer with a focus on content presentation, you can specialize in creating designs that effectively showcase the website's content, making it easy for readers to find and engage with the information they're looking for.
To succeed in this niche, you'll need to stay up-to-date with the latest trends in content presentation and design, ensuring that your clients' websites always look fresh and modern. By offering specialized web design services for blogs and content-driven websites, you can help content creators and businesses establish a strong online presence and attract a loyal audience.
Developing Expertise and Credibility in Your Chosen Niche
Success in your chosen web design niche hinges on the development of expertise and credibility, within your field. This involves staying up-to-date with industry trends, and best practices, and continuously improving your skills. Building a strong portfolio is also crucial for showcasing your expertise and attracting potential clients.
In addition to improving your skills and staying informed about industry developments, networking with other industry professionals and participating in webinars and online forums can help you establish credibility and demonstrate your expertise in your chosen niche. By developing expertise and credibility, you can position yourself as a sought-after expert in your chosen web design niche and attract more clients.
Marketing Strategies for Promoting Your Niche Services
The growth of your web design business and the attraction of new clients depends on the promotion of your niche services. Networking with industry professionals, attending related events, and joining applicable online forums are effective ways to promote your niche services and connect with potential clients.
Content marketing is another powerful strategy for promoting your niche services. By creating and disseminating content such as blog posts, videos, and social media posts, you can engage and attract potential customers while raising brand recognition and positioning yourself as a specialist in your niche.
In addition to content marketing, targeted advertising through search engine marketing, display advertising, and social media advertising can help you reach a larger audience and attract your ideal clients.
Adapting to Changes and Expanding Your Niche
Web design is an ever-evolving field, necessitating continuous adaptability and exploration of new opportunities, within your niche. Staying informed about industry developments, improving your skills, and investigating potential opportunities can help you stay competitive and ensure long-term success in your chosen niche.
To identify potential opportunities, consider exploring the market, participating in industry events, and connecting with other experts in your niche. By staying adaptable and open to new opportunities, you can ensure that your web design business remains successful and continues to grow within your chosen niche.
Summary
In conclusion, uncovering your website design niche is a vital step in standing out from the competition, increasing revenue, and building a strong reputation in a specific area.
By identifying popular industries and types of websites, aligning your niche with your skills and interests, evaluating market demand and competition, and developing expertise and credibility in your chosen niche, you can position yourself for long-term success in the competitive world of web design.
Now is the time to find your perfect niche and unlock your full potential as a web designer.
Frequently Asked Questions
How do I choose a web design niche?
To choose a web design niche, start by evaluating your previous projects and current web design trends.

Research different niches to check for existing markets and consider your hobbies and interests. Lastly, gain an understanding of your target audience's pain points and make sure the niche is both interesting and profitable.
Is web design a niche?
Yes, web design is a niche as it refers to designing websites for specialized markets.
What is a niche in web development?
A niche in web development is a specific segment or feature within the market that caters to a particular group of people or offers a specific set of services.

This could refer to a specialized area such as e-commerce websites or a feature such as rebranding, and it allows web designers to position themselves as experts in their industry and charge a premium.

By focusing on a niche, web designers can hone their skills and become more knowledgeable in their chosen areas. This can help them to stand out from the competition and attract more clients. Additionally, they can charge higher rates for their services due to their
Is website design in demand?
Web Design is in high demand, with expected job growth of 16% by 2032 and salaries remaining competitive. This makes it a great career choice.
What are some popular industries and types of websites that can serve as potential niches for web designers?
Popular industries for web designers include eCommerce, real estate, legal services, plumbing, online learning, and content creation. There's plenty of opportunity to specialize in any of these fields.