Do you want to take your website's performance to the next level?
If so, then Google Analytics is essential for understanding where traffic comes from and how visitors are engaging with your content. With a few clicks of the mouse and some well-placed snippets of analytics code, you can add this powerful statistical tool to any Divi website.
You'll have access to real-time data like page views, average session duration, bounce rate, and more—allowing you to optimize your web pages for higher conversions. Plus, Google Analytics gives you insight into user behavior that could help inform decisions about design elements or marketing campaigns going forward.
Table of contents
What is Google Analytics and what does it do for your website?
Integrating Google Analytics into the Divi theme allows Divi users to gain valuable insights into their website traffic and user behavior among other things.
It provides important data such as The number of visitors, average time spent on pages, and locations where the visitors come from.
This data is essential for making informed decisions about the functionality and design of your Divi website for maximum success.
Divi users that add google analytics are able to better identify strategies to increase visitor engagement, improve their search engine optimization strategy, and ultimately achieve their goals and provide an unbeatable UX.
Here are some of the key benefits of adding Google Analytics to your Divi theme or any WordPress theme in general:
Understand Your Website Traffic
Google Analytics lets you see how people are finding your website and what they do when they get there. This can help you make your Divi website better and market your business more effectively.
See Which Marketing Efforts Are Working
Google Analytics also allows you to see which of your marketing efforts are resulting in the most website traffic. This information can help you to focus your marketing budget on the strategies that are most effective in driving traffic and sales.
Identify Website Issues
Google Analytics will also help you to identify any issues that your website may have. For example, if you see a sharp decline in traffic, you can use Google Analytics to investigate the cause and take steps to correct the issue.
Monitor Key Performance Indicators
Google Analytics can help you track how well your website is doing. For example, you can use Google Analytics to track how many people buy something from your website, how long people stay on your website, and how many people leave your website without looking at anything.
Get Detailed Reporting
Google Analytics provides in-depth reporting that can be tailored to your specific needs. You can generate reports that show data for specific time periods, geographical regions, traffic sources, and more.
This information will be extremely helpful in making informed decisions about your website and business.
How to install Google Analytics on your Divi website
Now you understand why you should use Google Analytics it is time to create a Google Analytics account and install a Google Analytics tracking code on your Dive website.
Step 1: Create a new Google Analytics account
To get Divi Google Analytics up and running, the first step is to set up a new Google Analytics account. This setup process will enable you to track website visitors and user interactions across your Divi-built web pages.
Signing up for Google Analytics is quick and simple, only requiring an email address, website URL, and name to confirm the account.
Head over to: https://analytics.google.com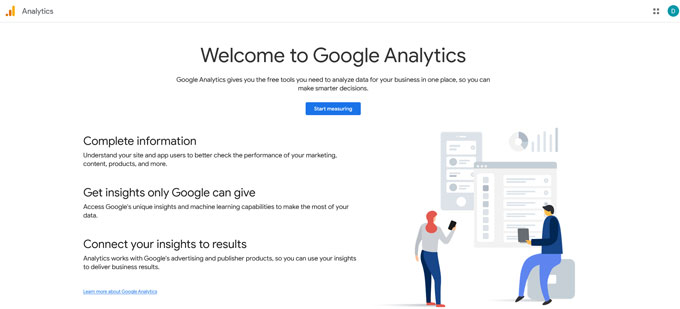 Click on the blue Start Measuring button, and this will bring you to the account setup form.
Under account name, you can fill in any name for your Google Analytics account. After that you can just click on the Next button.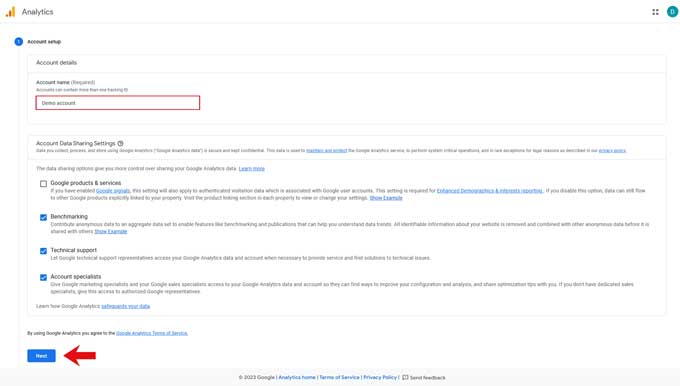 In this step, you have to give your Google Analytics property a name under property details. Below you can change the country and currency.
To proceed click on the blue Next button.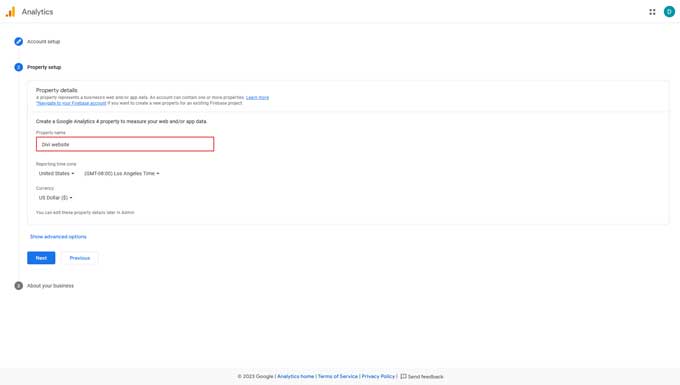 On the next screen, you can check the options that apply to you.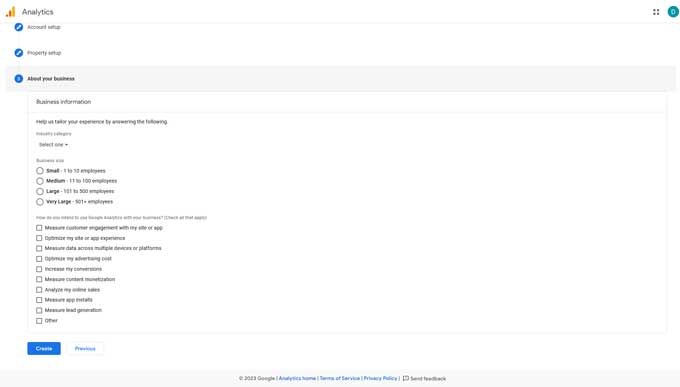 When you click on the Create button you will get a popup with the Google Analytics Terms of Service Agreement which you have to accept in order to continue.
After that, you have successfully created a Google Analytics account.
Step 2: Get your Google Analytics tracker code
You will get an option to take a tour of the Google Analytics dashboard which I recommend doing so that you get familiar with this dashboard.
In order to get a tracking code you first have to create a data stream. For this click on Web because we are installing this for our Divi website.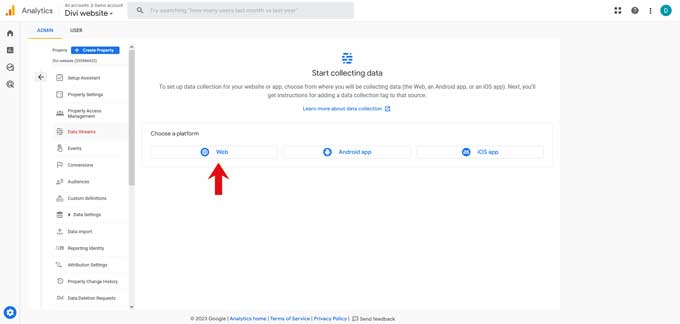 Fill in your website URL and a stream name (this can be anything).
Then click on Create stream button to continue.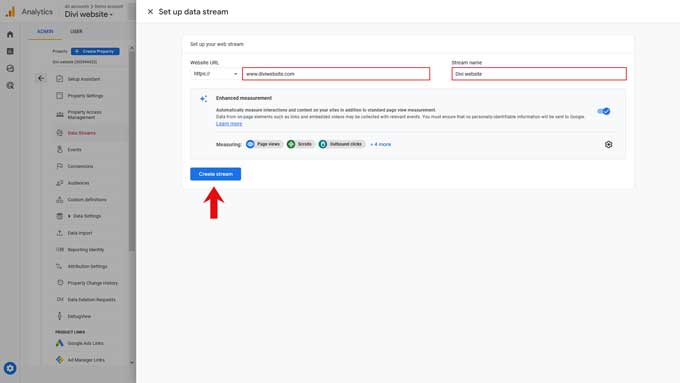 This will bring you to the next screen, change to the Install manually tab, and here is your global site tag code.
Copy this global site tag code.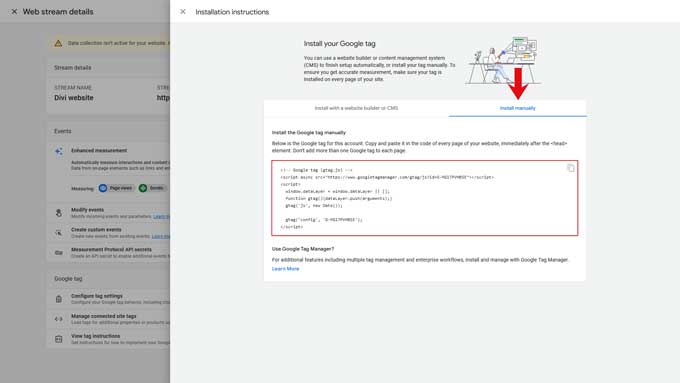 Step 3: Connect Google Analytics to Divi
Now go to your WordPress admin dashboard and navigate to Divi > Theme Options > Integration.
And paste the Global site tag code in the Add code to the < head > of your blog field.
You can also add this global site tag code to the Add code to the < body > (good for tracking codes such as google analytics) field.
But Google recommends doing this in the <head> of your WordPress website.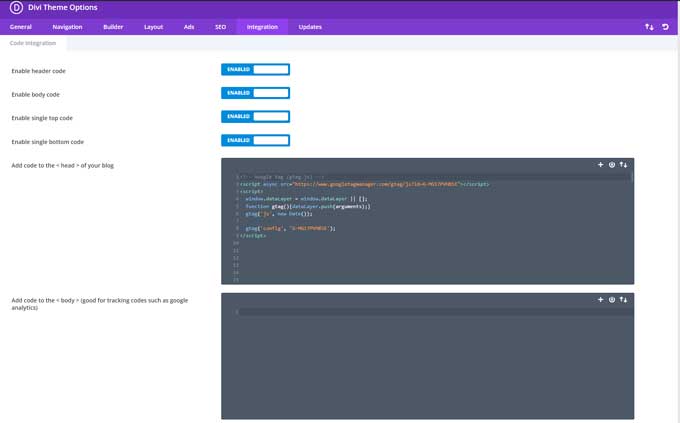 Step 4: Test that Google Analytics is Working
Head over to your Google Analytics dashboard and go to reports > Realtime.
Open another tab and visit a page of your site, and the real-time window should change to 1.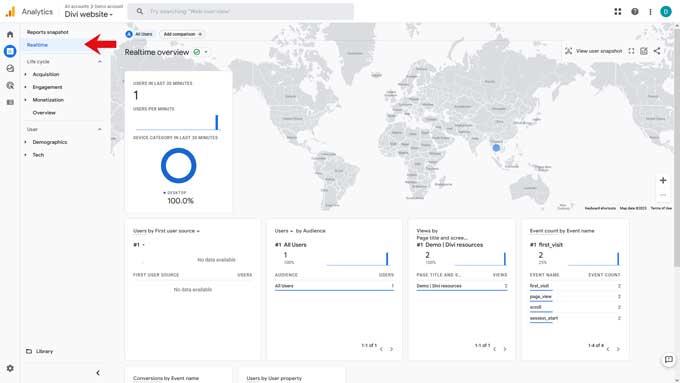 Google Analytics WordPress Plugins
Google Analytics is a valuable source of data to help your business grow, but the interface is not always user-friendly.
This can result in website owners needing to review numerous pages of data to locate the information they require regarding their web traffic.
There is an easier way to access the information you need. With a Google Analytics plugin, you can easily get the information you need without having to search through everything yourself.
And you can do this from your WordPress dashboard.
MonsterInsight

Understanding your website's performance is essential to making informed decisions and growing your online presence.
That's where MonsterInsights comes in. MonsterInsights is a plugin for WordPress that allows you to manage your website's analytics.
Effortlessly Set Up Advanced Google Analytics Features
With MonsterInsights, you can easily add advanced Google Analytics features to your WordPress site. The plugin won't interfere with the front end of your site, regardless of the theme you are using. Plus, no coding or development expertise is needed, which makes it ideal for beginners.
Access Your Google Analytics Reports Right from Your WordPress Dashboard
One of the best things about MonsterInsights is that you don't need to leave your WordPress dashboard to access your Google Analytics reports. The plugin comes with a built-in dashboard that provides you with all the key visitor information you need, including your top traffic sources.
Connect to Multiple Google Analytics Versions with Ease
MonsterInsights works with both Universal Analytics and Google Analytics 4. Dual Tracking lets you use both versions at the same time.
Extend the Functionality of Your Google Analytics with Add-ons
MonsterInsights comes with several features that can help you get more out of your Google Analytics data.
For example, the Google Analytics Enhanced eCommerce tracking feature lets you track conversion rates, transactions, and average order value with a single click.
Other features, such as Google Search Console, Easy Digital Downloads, MemberPress, and Forms, let you track keyword rankings, form submissions, and form conversion rates.
Ensure Compliance with Data Protection Laws
For website owners in the European Union, data protection laws can be a major concern. Thankfully, MonsterInsights offers an EU Compliance add-on that makes it easy to comply with these regulations.
In conclusion, MonsterInsights is a powerful Google Analytics plugin that simplifies the process of adding Google Analytics to your WordPress site. With its easy-to-use features, built-in dashboard, and add-ons, MonsterInsights can help you gain valuable insights into your website's performance without the need for extensive coding or development knowledge.
Elegant Themes has compiled a list of the best WordPress Google Analytics plugins, including MonsterInsights and other top options.
Conclusion
Adding Google Analytics to your Divi website is a simple and effective way to take your website's performance to the next level.
With access to real-time data, you can optimize your web pages for higher conversions. Plus, Google Analytics gives you insight into user behavior that could help inform decisions about design elements or marketing campaigns going forward.
You might also like